Transition Towns attempt in their local area to find, support and create positive projects for change. Reskilling people to rely less on oil, in a low-carbon economy, reducing their personal carbon footprint, and rebuilding a sense of community.
Transition Town Poole Dates
We meet occasionally with films and social get-togethers.

Find us on Facebook or email transitiontownpoole@gmail.com for news.
This year's Apple Day in Poole High Street is on Saturday 12th October 2019!
Please contact Andy H on 01202 389782 or transitiontownpoole@gmail.com for details.
Some of our key projects:
In 2010 Transition Town Poole helped a group of local residents to save a much-loved bit of green space in Upper Parkstone from development.
A wildlife-friendly community orchard of 32 fruit trees has been planted surrounded by hedgerows. Regular workdays and social events are held in the orchard. Contact: Friendsofturnersnursery@gmail.com
Poole Tidal Energy Partnership (PTEP) aims to harness the potential energy within Poole Harbour in a manner that is economically sustainable; is sensitive to the local environment; and contributes to the region's aspirations for clean energy.  See www.ptep.co.uk/

Fizz Bikes
We've been supporting Felicity Rice in setting up Fizz Bikes, a scheme to get people using electric bikes for their daily commute. Check it out on www.fizzbikes.co.uk
Abundance
Abundance is all about saving waste fruit from the bin. We help to gather up fruit from gardens where the owners are unable to harvest it and we distribute to charities, lunch clubs, food banks, etc. Every year we hold a popular Apple Pressing event in Poole High Street, showing how surplus fruit can be turned into delicious juice. We also have an apple press which we hire out to schools and other organizations. Contact Cherry: bh.abundance@yahoo.com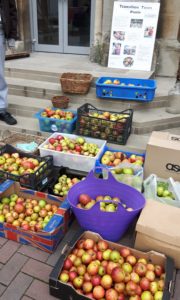 Fairtrade in Poole
In 2016, Poole was awarded Fairtrade Town status for the first time. Transition Town folks have been key members of the steering group that got this done. See www.fairtradepoole.org.uk
Zero Waste Poole
A new project to bring together people and organisations working to minimise overall waste going to landfill in Poole and to reduce single-use plastics, food waste and packaging.
Poole Food Coop
A group of families in Poole club together to order ethical, good-quality food and ecological household goods in bulk from Essential Coop, Bristol about every 4 weeks.
Transition BH Green Drinks
An informal opportunity to talk about green issues with likeminded folk. https://transitionbournemouth.wordpress.com/bh-green-drinks/
If you live, work or play in Poole, you are invited to join the group, or just to take some of our ideas and apply them to your own life.
Check out our friends over in Bournemouth at transitionbournemouth.org.uk
We have a Google group, which allows members to share ideas, http://groups.google.com/group/transition-poole