Since 2011 a group of Parkstone residents have planted, with the agreement of the council and the help of Transition Town Poole, a community orchard of 34 fruit and nut trees surrounded by wildlife-friendly hedgerows.
The idea was born when Turner's Nursery – a former plant nursery in Upper Parkstone – was threatened with development. People living around the site wanted to show that they valued and cared for this green oasis in their community.
They set about getting permission, designing and planting. Today, nearly 10 years later it's a beautiful space, well used by the local community for walking, picnics, playing with family and just enjoying nature.
Friendly, social workdays are held once a month so people can get together to help maintain the orchard.
Here are a selection of photos through the years.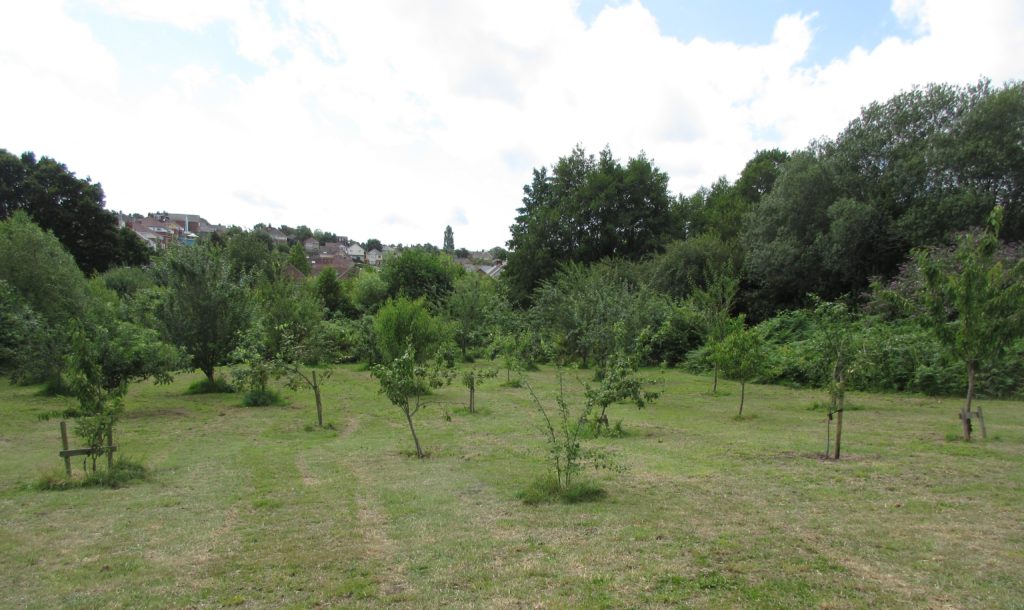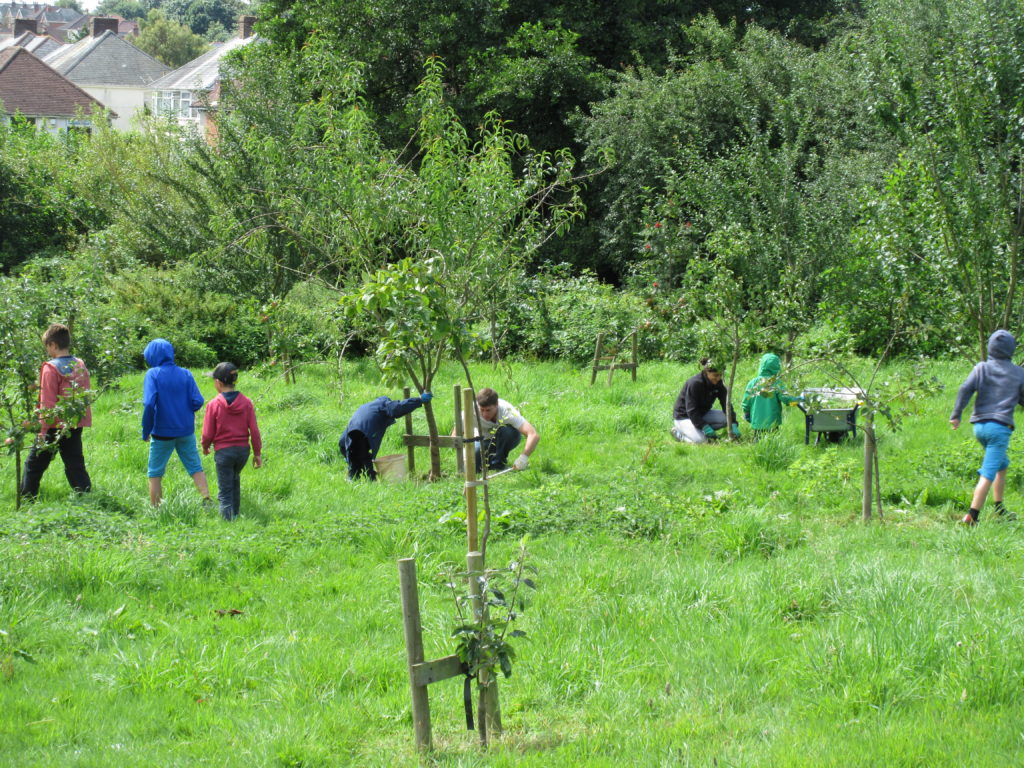 Some history
There used to be many nurseries to serve the population. … They delivered their goods by horse and cart then later by motorcycle. Mr. Turner and his son Bill …bought Uppleby House from Elizabeth Uppleby and started the business on 150 acres of the surrounding land.

In Bill Turner's will, he left the green space at the top of Victoria Road opposite the cemetery "to be an open space for all time, so people can breathe".

A History of Upper Parkstone, Patricia M Wilnecker
Friends of Turner's Nursery
Although it is an "urban myth" that Bill Turner left his nursery to the people of Poole in his will (in fact it was sold to the Council by his family in 1982), it is true that it is an important green lung for the people of Upper Parkstone. That is why a number of us got together to protect it.
We are a group of people who live in Upper Parkstone and who would like to see the bramble patch at Turner's Nursery opened up for use by the community and protected from over-development. We believe that all open space in Poole is precious.
Some of us have years of experience working together in a community garden. Others are new to the whole idea and ready to learn. One of our number, Jamie, who lived off Uppleby Road, has written about his vision for the land (see below). What's your vision? We have started to plan and to plant, need your help to nurture and progress.
If you would like to learn more or get involved, please get in touch.
FriendsofTurnersNursery@gmail.com
or find us on facebook
Turner's Field – Our Future
In the heart of Upper Parkstone lies a field of brambles and possibilities. It was left to us – the people of Poole – and it has been left to go wild.
We understand that some people at Branksome Heath Middle School would like to see this peaceful wildlife haven become a multi-use play area for school children. As local residents, we want to preserve quiet space for ourselves and for wildlife. We also know the pressure schools are under with the recent closures.
Perhaps we can come up with a plan that works for everyone.
When I was a girl, we did nature studies and it was lovely.
— Valerie, local resident
Turner's Field could continue to be a beautiful wildlife haven, a place for children to learn about nature and also a bountiful source of fresh and free food for us and for future generations of Poole residents.
I can imagine a community orchard with fruit and nut trees, medicinal herbs, a wildlife pond, a community vegetable garden, spaces to rest and for children and adults to learn, play and explore. It could be a place to revive the local community.
We can learn from our neighbours. For example, there's the Tatnam Organic Patch in Oakdale. Once a bramble patch, it's now been a community garden for 12 years.
What kind of future would you like to help create?
What have we achieved ?
The first success was in getting local people to be interested in the project, and forming "Friends of Turners Nursery", we then got permission from Borough of Poole to create a wildlife-friendly community orchard. With their help, the brambles on the eastern end of the site were tamed, and the site surveyed, especially for how water flowed across it. We got a bit anxious as Wessex Water needed to build a major new sewer through the site, but thankfully we were able to work with them, and use the woodchip that they created.
We had a grant of a hedge from the Woodland Trust, and the first fruit trees are in. It is all looking very good.
If you want to get involved and help define how this plot develops, contact Harriet on 01202 735758, or check our Facebook page.
<SCRIBUSELEMUTF8 W="1602″ H="608.002″ YP="-1″ XP="-801.89″ COUNT="19″ Version="1.3.3.13″ >
<FONT NAME="GaramondNo8 Regular" />
<FONT NAME="Palatino Linotype Regular" />
<FONT NAME="Times New Roman Regular" />
<COLOR Register="0″ Spot="0″ RGB="#f0f8ff" NAME="AliceBlue" />
<COLOR Register="0″ Spot="0″ RGB="#faebd7″ NAME="AntiqueWhite" />
<COLOR Register="0″ Spot="0″ RGB="#ffefdb" NAME="AntiqueWhite1″ />
<COLOR Register="0″ Spot="0″ RGB="#eedfcc" NAME="AntiqueWhite2″ />
<COLOR Register="0″ Spot="0″ RGB="#cdc0b0″ NAME="AntiqueWhite3″ />
<COLOR Register="0″ Spot="0″ RGB="#8b8378″ NAME="AntiqueWhite4″ />
<COLOR Register="0″ Spot="0″ RGB="#7fffd4″ NAME="Aquamarine" />
<COLOR Register="0″ Spot="0″ RGB="#7fffd4″ NAME="Aquamarine1″ />
<COLOR Register="0″ Spot="0″ RGB="#76eec6″ NAME="Aquamarine2″ />
<COLOR Register="0″ Spot="0″ RGB="#66cdaa" NAME="Aquamarine3″ />
<COLOR Register="0″ Spot="0″ RGB="#458b74″ NAME="Aquamarine4″ />
<COLOR Register="0″ Spot="0″ RGB="#f0ffff" NAME="Azure" />
<COLOR Register="0″ Spot="0″ RGB="#f0ffff" NAME="Azure1″ />
<COLOR Register="0″ Spot="0″ RGB="#e0eeee" NAME="Azure2″ />
<COLOR Register="0″ Spot="0″ RGB="#c1cdcd" NAME="Azure3″ />
<COLOR Register="0″ Spot="0″ RGB="#838b8b" NAME="Azure4″ />
<COLOR Register="0″ Spot="0″ RGB="#f5f5dc" NAME="Beige" />
<COLOR Register="0″ Spot="0″ RGB="#ffe4c4″ NAME="Bisque" />
<COLOR Register="0″ Spot="0″ RGB="#ffe4c4″ NAME="Bisque1″ />
<COLOR Register="0″ Spot="0″ RGB="#eed5b7″ NAME="Bisque2″ />
<COLOR Register="0″ Spot="0″ RGB="#cdb79e" NAME="Bisque3″ />
<COLOR Register="0″ Spot="0″ RGB="#8b7d6b" NAME="Bisque4″ />
<COLOR Register="0″ Spot="0″ CMYK="#000000ff" NAME="Black" />
<COLOR Register="0″ Spot="0″ RGB="#ffebcd" NAME="BlanchedAlmond" />
<COLOR Register="0″ Spot="0″ RGB="#0000ff" NAME="Blue" />
<COLOR Register="0″ Spot="0″ RGB="#0000ff" NAME="Blue1″ />
<COLOR Register="0″ Spot="0″ RGB="#0000ee" NAME="Blue2″ />
<COLOR Register="0″ Spot="0″ RGB="#0000cd" NAME="Blue3″ />
<COLOR Register="0″ Spot="0″ RGB="#00008b" NAME="Blue4″ />
<COLOR Register="0″ Spot="0″ RGB="#8a2be2″ NAME="BlueViolet" />
<COLOR Register="0″ Spot="0″ RGB="#a52a2a" NAME="Brown" />
<COLOR Register="0″ Spot="0″ RGB="#ff4040″ NAME="Brown1″ />
<COLOR Register="0″ Spot="0″ RGB="#ee3b3b" NAME="Brown2″ />
<COLOR Register="0″ Spot="0″ RGB="#cd3333″ NAME="Brown3″ />
<COLOR Register="0″ Spot="0″ RGB="#8b2323″ NAME="Brown4″ />
<COLOR Register="0″ Spot="0″ RGB="#deb887″ NAME="Burlywood" />
<COLOR Register="0″ Spot="0″ RGB="#ffd39b" NAME="Burlywood1″ />
<COLOR Register="0″ Spot="0″ RGB="#eec591″ NAME="Burlywood2″ />
<COLOR Register="0″ Spot="0″ RGB="#cdaa7d" NAME="Burlywood3″ />
<COLOR Register="0″ Spot="0″ RGB="#8b7355″ NAME="Burlywood4″ />
<COLOR Register="0″ Spot="0″ RGB="#5f9ea0″ NAME="CadetBlue" />
<COLOR Register="0″ Spot="0″ RGB="#98f5ff" NAME="CadetBlue1″ />
<COLOR Register="0″ Spot="0″ RGB="#8ee5ee" NAME="CadetBlue2″ />
<COLOR Register="0″ Spot="0″ RGB="#7ac5cd" NAME="CadetBlue3″ />
<COLOR Register="0″ Spot="0″ RGB="#53868b" NAME="CadetBlue4″ />
<COLOR Register="0″ Spot="0″ RGB="#7fff00″ NAME="Chartreuse" />
<COLOR Register="0″ Spot="0″ RGB="#7fff00″ NAME="Chartreuse1″ />
<COLOR Register="0″ Spot="0″ RGB="#76ee00″ NAME="Chartreuse2″ />
<COLOR Register="0″ Spot="0″ RGB="#66cd00″ NAME="Chartreuse3″ />
<COLOR Register="0″ Spot="0″ RGB="#458b00″ NAME="Chartreuse4″ />
<COLOR Register="0″ Spot="0″ RGB="#d2691e" NAME="Chocolate" />
<COLOR Register="0″ Spot="0″ RGB="#ff7f24″ NAME="Chocolate1″ />
<COLOR Register="0″ Spot="0″ RGB="#ee7621″ NAME="Chocolate2″ />
<COLOR Register="0″ Spot="0″ RGB="#cd661d" NAME="Chocolate3″ />
<COLOR Register="0″ Spot="0″ RGB="#8b4513″ NAME="Chocolate4″ />
<COLOR Register="0″ Spot="0″ RGB="#ff7f50″ NAME="Coral" />
<COLOR Register="0″ Spot="0″ RGB="#ff7256″ NAME="Coral1″ />
<COLOR Register="0″ Spot="0″ RGB="#ee6a50″ NAME="Coral2″ />
<COLOR Register="0″ Spot="0″ RGB="#cd5b45″ NAME="Coral3″ />
<COLOR Register="0″ Spot="0″ RGB="#8b3e2f" NAME="Coral4″ />
<COLOR Register="0″ Spot="0″ RGB="#6495ed" NAME="CornflowerBlue" />
<COLOR Register="0″ Spot="0″ RGB="#fff8dc" NAME="Cornsilk" />
<COLOR Register="0″ Spot="0″ RGB="#fff8dc" NAME="Cornsilk1″ />
<COLOR Register="0″ Spot="0″ RGB="#eee8cd" NAME="Cornsilk2″ />
<COLOR Register="0″ Spot="0″ RGB="#cdc8b1″ NAME="Cornsilk3″ />
<COLOR Register="0″ Spot="0″ RGB="#8b8878″ NAME="Cornsilk4″ />
<COLOR Register="0″ Spot="0″ RGB="#00ffff" NAME="Cyan" />
<COLOR Register="0″ Spot="0″ RGB="#00ffff" NAME="Cyan1″ />
<COLOR Register="0″ Spot="0″ RGB="#00eeee" NAME="Cyan2″ />
<COLOR Register="0″ Spot="0″ RGB="#00cdcd" NAME="Cyan3″ />
<COLOR Register="0″ Spot="0″ RGB="#008b8b" NAME="Cyan4″ />
<COLOR Register="0″ Spot="0″ RGB="#00008b" NAME="DarkBlue" />
<COLOR Register="0″ Spot="0″ RGB="#008b8b" NAME="DarkCyan" />
<COLOR Register="0″ Spot="0″ RGB="#b8860b" NAME="DarkGoldenrod" />
<COLOR Register="0″ Spot="0″ RGB="#ffb90f" NAME="DarkGoldenrod1″ />
<COLOR Register="0″ Spot="0″ RGB="#eead0e" NAME="DarkGoldenrod2″ />
<COLOR Register="0″ Spot="0″ RGB="#cd950c" NAME="DarkGoldenrod3″ />
<COLOR Register="0″ Spot="0″ RGB="#8b6508″ NAME="DarkGoldenrod4″ />
<COLOR Register="0″ Spot="0″ RGB="#006400″ NAME="DarkGreen" />
<COLOR Register="0″ Spot="0″ RGB="#a9a9a9″ NAME="DarkGrey" />
<COLOR Register="0″ Spot="0″ RGB="#bdb76b" NAME="DarkKhaki" />
<COLOR Register="0″ Spot="0″ RGB="#8b008b" NAME="DarkMagenta" />
<COLOR Register="0″ Spot="0″ RGB="#556b2f" NAME="DarkOliveGreen" />
<COLOR Register="0″ Spot="0″ RGB="#caff70″ NAME="DarkOliveGreen1″ />
<COLOR Register="0″ Spot="0″ RGB="#bcee68″ NAME="DarkOliveGreen2″ />
<COLOR Register="0″ Spot="0″ RGB="#a2cd5a" NAME="DarkOliveGreen3″ />
<COLOR Register="0″ Spot="0″ RGB="#6e8b3d" NAME="DarkOliveGreen4″ />
<COLOR Register="0″ Spot="0″ RGB="#ff8c00″ NAME="DarkOrange" />
<COLOR Register="0″ Spot="0″ RGB="#ff7f00″ NAME="DarkOrange1″ />
<COLOR Register="0″ Spot="0″ RGB="#ee7600″ NAME="DarkOrange2″ />
<COLOR Register="0″ Spot="0″ RGB="#cd6600″ NAME="DarkOrange3″ />
<COLOR Register="0″ Spot="0″ RGB="#8b4500″ NAME="DarkOrange4″ />
<COLOR Register="0″ Spot="0″ RGB="#9932cc" NAME="DarkOrchid" />
<COLOR Register="0″ Spot="0″ RGB="#bf3eff" NAME="DarkOrchid1″ />
<COLOR Register="0″ Spot="0″ RGB="#b23aee" NAME="DarkOrchid2″ />
<COLOR Register="0″ Spot="0″ RGB="#9a32cd" NAME="DarkOrchid3″ />
<COLOR Register="0″ Spot="0″ RGB="#68228b" NAME="DarkOrchid4″ />
<COLOR Register="0″ Spot="0″ RGB="#8b0000″ NAME="DarkRed" />
<COLOR Register="0″ Spot="0″ RGB="#e9967a" NAME="DarkSalmon" />
<COLOR Register="0″ Spot="0″ RGB="#8fbc8f" NAME="DarkSeaGreen" />
<COLOR Register="0″ Spot="0″ RGB="#c1ffc1″ NAME="DarkSeaGreen1″ />
<COLOR Register="0″ Spot="0″ RGB="#b4eeb4″ NAME="DarkSeaGreen2″ />
<COLOR Register="0″ Spot="0″ RGB="#9bcd9b" NAME="DarkSeaGreen3″ />
<COLOR Register="0″ Spot="0″ RGB="#698b69″ NAME="DarkSeaGreen4″ />
<COLOR Register="0″ Spot="0″ RGB="#483d8b" NAME="DarkSlateBlue" />
<COLOR Register="0″ Spot="0″ RGB="#2f4f4f" NAME="DarkSlateGrey" />
<COLOR Register="0″ Spot="0″ RGB="#97ffff" NAME="DarkSlateGrey1″ />
<COLOR Register="0″ Spot="0″ RGB="#8deeee" NAME="DarkSlateGrey2″ />
<COLOR Register="0″ Spot="0″ RGB="#79cdcd" NAME="DarkSlateGrey3″ />
<COLOR Register="0″ Spot="0″ RGB="#528b8b" NAME="DarkSlateGrey4″ />
<COLOR Register="0″ Spot="0″ RGB="#00ced1″ NAME="DarkTurquoise" />
<COLOR Register="0″ Spot="0″ RGB="#9400d3″ NAME="DarkViolet" />
<COLOR Register="0″ Spot="0″ RGB="#ff1493″ NAME="DeepPink" />
<COLOR Register="0″ Spot="0″ RGB="#ff1493″ NAME="DeepPink1″ />
<COLOR Register="0″ Spot="0″ RGB="#ee1289″ NAME="DeepPink2″ />
<COLOR Register="0″ Spot="0″ RGB="#cd1076″ NAME="DeepPink3″ />
<COLOR Register="0″ Spot="0″ RGB="#8b0a50″ NAME="DeepPink4″ />
<COLOR Register="0″ Spot="0″ RGB="#00bfff" NAME="DeepSkyBlue" />
<COLOR Register="0″ Spot="0″ RGB="#00bfff" NAME="DeepSkyBlue1″ />
<COLOR Register="0″ Spot="0″ RGB="#00b2ee" NAME="DeepSkyBlue2″ />
<COLOR Register="0″ Spot="0″ RGB="#009acd" NAME="DeepSkyBlue3″ />
<COLOR Register="0″ Spot="0″ RGB="#00688b" NAME="DeepSkyBlue4″ />
<COLOR Register="0″ Spot="0″ RGB="#696969″ NAME="DimGrey" />
<COLOR Register="0″ Spot="0″ RGB="#1e90ff" NAME="DodgerBlue" />
<COLOR Register="0″ Spot="0″ RGB="#1e90ff" NAME="DodgerBlue1″ />
<COLOR Register="0″ Spot="0″ RGB="#1c86ee" NAME="DodgerBlue2″ />
<COLOR Register="0″ Spot="0″ RGB="#1874cd" NAME="DodgerBlue3″ />
<COLOR Register="0″ Spot="0″ RGB="#104e8b" NAME="DodgerBlue4″ />
<COLOR Register="0″ Spot="0″ RGB="#b22222″ NAME="Firebrick" />
<COLOR Register="0″ Spot="0″ RGB="#ff3030″ NAME="Firebrick1″ />
<COLOR Register="0″ Spot="0″ RGB="#ee2c2c" NAME="Firebrick2″ />
<COLOR Register="0″ Spot="0″ RGB="#cd2626″ NAME="Firebrick3″ />
<COLOR Register="0″ Spot="0″ RGB="#8b1a1a" NAME="Firebrick4″ />
<COLOR Register="0″ Spot="0″ RGB="#fffaf0″ NAME="FloralWhite" />
<COLOR Register="0″ Spot="0″ RGB="#228b22″ NAME="ForestGreen" />
<COLOR Register="0″ Spot="0″ RGB="#dcdcdc" NAME="Gainsboro" />
<COLOR Register="0″ Spot="0″ RGB="#f8f8ff" NAME="GhostWhite" />
<COLOR Register="0″ Spot="0″ RGB="#ffd700″ NAME="Gold" />
<COLOR Register="0″ Spot="0″ RGB="#ffd700″ NAME="Gold1″ />
<COLOR Register="0″ Spot="0″ RGB="#eec900″ NAME="Gold2″ />
<COLOR Register="0″ Spot="0″ RGB="#cdad00″ NAME="Gold3″ />
<COLOR Register="0″ Spot="0″ RGB="#8b7500″ NAME="Gold4″ />
<COLOR Register="0″ Spot="0″ RGB="#daa520″ NAME="Goldenrod" />
<COLOR Register="0″ Spot="0″ RGB="#ffc125″ NAME="Goldenrod1″ />
<COLOR Register="0″ Spot="0″ RGB="#eeb422″ NAME="Goldenrod2″ />
<COLOR Register="0″ Spot="0″ RGB="#cd9b1d" NAME="Goldenrod3″ />
<COLOR Register="0″ Spot="0″ RGB="#8b6914″ NAME="Goldenrod4″ />
<COLOR Register="0″ Spot="0″ RGB="#00ff00″ NAME="Green" />
<COLOR Register="0″ Spot="0″ RGB="#00ff00″ NAME="Green1″ />
<COLOR Register="0″ Spot="0″ RGB="#00ee00″ NAME="Green2″ />
<COLOR Register="0″ Spot="0″ RGB="#00cd00″ NAME="Green3″ />
<COLOR Register="0″ Spot="0″ RGB="#008b00″ NAME="Green4″ />
<COLOR Register="0″ Spot="0″ RGB="#adff2f" NAME="GreenYellow" />
<COLOR Register="0″ Spot="0″ RGB="#bebebe" NAME="Grey" />
<COLOR Register="0″ Spot="0″ RGB="#000000″ NAME="Grey0″ />
<COLOR Register="0″ Spot="0″ RGB="#030303″ NAME="Grey1″ />
<COLOR Register="0″ Spot="0″ RGB="#1a1a1a" NAME="Grey10″ />
<COLOR Register="0″ Spot="0″ RGB="#ffffff" NAME="Grey100″ />
<COLOR Register="0″ Spot="0″ RGB="#1c1c1c" NAME="Grey11″ />
<COLOR Register="0″ Spot="0″ RGB="#1f1f1f" NAME="Grey12″ />
<COLOR Register="0″ Spot="0″ RGB="#212121″ NAME="Grey13″ />
<COLOR Register="0″ Spot="0″ RGB="#242424″ NAME="Grey14″ />
<COLOR Register="0″ Spot="0″ RGB="#262626″ NAME="Grey15″ />
<COLOR Register="0″ Spot="0″ RGB="#292929″ NAME="Grey16″ />
<COLOR Register="0″ Spot="0″ RGB="#2b2b2b" NAME="Grey17″ />
<COLOR Register="0″ Spot="0″ RGB="#2e2e2e" NAME="Grey18″ />
<COLOR Register="0″ Spot="0″ RGB="#303030″ NAME="Grey19″ />
<COLOR Register="0″ Spot="0″ RGB="#050505″ NAME="Grey2″ />
<COLOR Register="0″ Spot="0″ RGB="#333333″ NAME="Grey20″ />
<COLOR Register="0″ Spot="0″ RGB="#363636″ NAME="Grey21″ />
<COLOR Register="0″ Spot="0″ RGB="#383838″ NAME="Grey22″ />
<COLOR Register="0″ Spot="0″ RGB="#3b3b3b" NAME="Grey23″ />
<COLOR Register="0″ Spot="0″ RGB="#3d3d3d" NAME="Grey24″ />
<COLOR Register="0″ Spot="0″ RGB="#404040″ NAME="Grey25″ />
<COLOR Register="0″ Spot="0″ RGB="#424242″ NAME="Grey26″ />
<COLOR Register="0″ Spot="0″ RGB="#454545″ NAME="Grey27″ />
<COLOR Register="0″ Spot="0″ RGB="#474747″ NAME="Grey28″ />
<COLOR Register="0″ Spot="0″ RGB="#4a4a4a" NAME="Grey29″ />
<COLOR Register="0″ Spot="0″ RGB="#080808″ NAME="Grey3″ />
<COLOR Register="0″ Spot="0″ RGB="#4d4d4d" NAME="Grey30″ />
<COLOR Register="0″ Spot="0″ RGB="#4f4f4f" NAME="Grey31″ />
<COLOR Register="0″ Spot="0″ RGB="#525252″ NAME="Grey32″ />
<COLOR Register="0″ Spot="0″ RGB="#545454″ NAME="Grey33″ />
<COLOR Register="0″ Spot="0″ RGB="#575757″ NAME="Grey34″ />
<COLOR Register="0″ Spot="0″ RGB="#595959″ NAME="Grey35″ />
<COLOR Register="0″ Spot="0″ RGB="#5c5c5c" NAME="Grey36″ />
<COLOR Register="0″ Spot="0″ RGB="#5e5e5e" NAME="Grey37″ />
<COLOR Register="0″ Spot="0″ RGB="#616161″ NAME="Grey38″ />
<COLOR Register="0″ Spot="0″ RGB="#636363″ NAME="Grey39″ />
<COLOR Register="0″ Spot="0″ RGB="#0a0a0a" NAME="Grey4″ />
<COLOR Register="0″ Spot="0″ RGB="#666666″ NAME="Grey40″ />
<COLOR Register="0″ Spot="0″ RGB="#696969″ NAME="Grey41″ />
<COLOR Register="0″ Spot="0″ RGB="#6b6b6b" NAME="Grey42″ />
<COLOR Register="0″ Spot="0″ RGB="#6e6e6e" NAME="Grey43″ />
<COLOR Register="0″ Spot="0″ RGB="#707070″ NAME="Grey44″ />
<COLOR Register="0″ Spot="0″ RGB="#737373″ NAME="Grey45″ />
<COLOR Register="0″ Spot="0″ RGB="#757575″ NAME="Grey46″ />
<COLOR Register="0″ Spot="0″ RGB="#787878″ NAME="Grey47″ />
<COLOR Register="0″ Spot="0″ RGB="#7a7a7a" NAME="Grey48″ />
<COLOR Register="0″ Spot="0″ RGB="#7d7d7d" NAME="Grey49″ />
<COLOR Register="0″ Spot="0″ RGB="#0d0d0d" NAME="Grey5″ />
<COLOR Register="0″ Spot="0″ RGB="#7f7f7f" NAME="Grey50″ />
<COLOR Register="0″ Spot="0″ RGB="#828282″ NAME="Grey51″ />
<COLOR Register="0″ Spot="0″ RGB="#858585″ NAME="Grey52″ />
<COLOR Register="0″ Spot="0″ RGB="#878787″ NAME="Grey53″ />
<COLOR Register="0″ Spot="0″ RGB="#8a8a8a" NAME="Grey54″ />
<COLOR Register="0″ Spot="0″ RGB="#8c8c8c" NAME="Grey55″ />
<COLOR Register="0″ Spot="0″ RGB="#8f8f8f" NAME="Grey56″ />
<COLOR Register="0″ Spot="0″ RGB="#919191″ NAME="Grey57″ />
<COLOR Register="0″ Spot="0″ RGB="#949494″ NAME="Grey58″ />
<COLOR Register="0″ Spot="0″ RGB="#969696″ NAME="Grey59″ />
<COLOR Register="0″ Spot="0″ RGB="#0f0f0f" NAME="Grey6″ />
<COLOR Register="0″ Spot="0″ RGB="#999999″ NAME="Grey60″ />
<COLOR Register="0″ Spot="0″ RGB="#9c9c9c" NAME="Grey61″ />
<COLOR Register="0″ Spot="0″ RGB="#9e9e9e" NAME="Grey62″ />
<COLOR Register="0″ Spot="0″ RGB="#a1a1a1″ NAME="Grey63″ />
<COLOR Register="0″ Spot="0″ RGB="#a3a3a3″ NAME="Grey64″ />
<COLOR Register="0″ Spot="0″ RGB="#a6a6a6″ NAME="Grey65″ />
<COLOR Register="0″ Spot="0″ RGB="#a8a8a8″ NAME="Grey66″ />
<COLOR Register="0″ Spot="0″ RGB="#ababab" NAME="Grey67″ />
<COLOR Register="0″ Spot="0″ RGB="#adadad" NAME="Grey68″ />
<COLOR Register="0″ Spot="0″ RGB="#b0b0b0″ NAME="Grey69″ />
<COLOR Register="0″ Spot="0″ RGB="#121212″ NAME="Grey7″ />
<COLOR Register="0″ Spot="0″ RGB="#b3b3b3″ NAME="Grey70″ />
<COLOR Register="0″ Spot="0″ RGB="#b5b5b5″ NAME="Grey71″ />
<COLOR Register="0″ Spot="0″ RGB="#b8b8b8″ NAME="Grey72″ />
<COLOR Register="0″ Spot="0″ RGB="#bababa" NAME="Grey73″ />
<COLOR Register="0″ Spot="0″ RGB="#bdbdbd" NAME="Grey74″ />
<COLOR Register="0″ Spot="0″ RGB="#bfbfbf" NAME="Grey75″ />
<COLOR Register="0″ Spot="0″ RGB="#c2c2c2″ NAME="Grey76″ />
<COLOR Register="0″ Spot="0″ RGB="#c4c4c4″ NAME="Grey77″ />
<COLOR Register="0″ Spot="0″ RGB="#c7c7c7″ NAME="Grey78″ />
<COLOR Register="0″ Spot="0″ RGB="#c9c9c9″ NAME="Grey79″ />
<COLOR Register="0″ Spot="0″ RGB="#141414″ NAME="Grey8″ />
<COLOR Register="0″ Spot="0″ RGB="#cccccc" NAME="Grey80″ />
<COLOR Register="0″ Spot="0″ RGB="#cfcfcf" NAME="Grey81″ />
<COLOR Register="0″ Spot="0″ RGB="#d1d1d1″ NAME="Grey82″ />
<COLOR Register="0″ Spot="0″ RGB="#d4d4d4″ NAME="Grey83″ />
<COLOR Register="0″ Spot="0″ RGB="#d6d6d6″ NAME="Grey84″ />
<COLOR Register="0″ Spot="0″ RGB="#d9d9d9″ NAME="Grey85″ />
<COLOR Register="0″ Spot="0″ RGB="#dbdbdb" NAME="Grey86″ />
<COLOR Register="0″ Spot="0″ RGB="#dedede" NAME="Grey87″ />
<COLOR Register="0″ Spot="0″ RGB="#e0e0e0″ NAME="Grey88″ />
<COLOR Register="0″ Spot="0″ RGB="#e3e3e3″ NAME="Grey89″ />
<COLOR Register="0″ Spot="0″ RGB="#171717″ NAME="Grey9″ />
<COLOR Register="0″ Spot="0″ RGB="#e5e5e5″ NAME="Grey90″ />
<COLOR Register="0″ Spot="0″ RGB="#e8e8e8″ NAME="Grey91″ />
<COLOR Register="0″ Spot="0″ RGB="#ebebeb" NAME="Grey92″ />
<COLOR Register="0″ Spot="0″ RGB="#ededed" NAME="Grey93″ />
<COLOR Register="0″ Spot="0″ RGB="#f0f0f0″ NAME="Grey94″ />
<COLOR Register="0″ Spot="0″ RGB="#f2f2f2″ NAME="Grey95″ />
<COLOR Register="0″ Spot="0″ RGB="#f5f5f5″ NAME="Grey96″ />
<COLOR Register="0″ Spot="0″ RGB="#f7f7f7″ NAME="Grey97″ />
<COLOR Register="0″ Spot="0″ RGB="#fafafa" NAME="Grey98″ />
<COLOR Register="0″ Spot="0″ RGB="#fcfcfc" NAME="Grey99″ />
<COLOR Register="0″ Spot="0″ RGB="#f0fff0″ NAME="Honeydew" />
<COLOR Register="0″ Spot="0″ RGB="#f0fff0″ NAME="Honeydew1″ />
<COLOR Register="0″ Spot="0″ RGB="#e0eee0″ NAME="Honeydew2″ />
<COLOR Register="0″ Spot="0″ RGB="#c1cdc1″ NAME="Honeydew3″ />
<COLOR Register="0″ Spot="0″ RGB="#838b83″ NAME="Honeydew4″ />
<COLOR Register="0″ Spot="0″ RGB="#ff69b4″ NAME="HotPink" />
<COLOR Register="0″ Spot="0″ RGB="#ff6eb4″ NAME="HotPink1″ />
<COLOR Register="0″ Spot="0″ RGB="#ee6aa7″ NAME="HotPink2″ />
<COLOR Register="0″ Spot="0″ RGB="#cd6090″ NAME="HotPink3″ />
<COLOR Register="0″ Spot="0″ RGB="#8b3a62″ NAME="HotPink4″ />
<COLOR Register="0″ Spot="0″ RGB="#cd5c5c" NAME="IndianRed" />
<COLOR Register="0″ Spot="0″ RGB="#ff6a6a" NAME="IndianRed1″ />
<COLOR Register="0″ Spot="0″ RGB="#ee6363″ NAME="IndianRed2″ />
<COLOR Register="0″ Spot="0″ RGB="#cd5555″ NAME="IndianRed3″ />
<COLOR Register="0″ Spot="0″ RGB="#8b3a3a" NAME="IndianRed4″ />
<COLOR Register="0″ Spot="0″ RGB="#fffff0″ NAME="Ivory" />
<COLOR Register="0″ Spot="0″ RGB="#fffff0″ NAME="Ivory1″ />
<COLOR Register="0″ Spot="0″ RGB="#eeeee0″ NAME="Ivory2″ />
<COLOR Register="0″ Spot="0″ RGB="#cdcdc1″ NAME="Ivory3″ />
<COLOR Register="0″ Spot="0″ RGB="#8b8b83″ NAME="Ivory4″ />
<COLOR Register="0″ Spot="0″ RGB="#f0e68c" NAME="Khaki" />
<COLOR Register="0″ Spot="0″ RGB="#fff68f" NAME="Khaki1″ />
<COLOR Register="0″ Spot="0″ RGB="#eee685″ NAME="Khaki2″ />
<COLOR Register="0″ Spot="0″ RGB="#cdc673″ NAME="Khaki3″ />
<COLOR Register="0″ Spot="0″ RGB="#8b864e" NAME="Khaki4″ />
<COLOR Register="0″ Spot="0″ RGB="#e6e6fa" NAME="Lavender" />
<COLOR Register="0″ Spot="0″ RGB="#fff0f5″ NAME="LavenderBlush" />
<COLOR Register="0″ Spot="0″ RGB="#fff0f5″ NAME="LavenderBlush1″ />
<COLOR Register="0″ Spot="0″ RGB="#eee0e5″ NAME="LavenderBlush2″ />
<COLOR Register="0″ Spot="0″ RGB="#cdc1c5″ NAME="LavenderBlush3″ />
<COLOR Register="0″ Spot="0″ RGB="#8b8386″ NAME="LavenderBlush4″ />
<COLOR Register="0″ Spot="0″ RGB="#7cfc00″ NAME="LawnGreen" />
<COLOR Register="0″ Spot="0″ RGB="#fffacd" NAME="LemonChiffon" />
<COLOR Register="0″ Spot="0″ RGB="#fffacd" NAME="LemonChiffon1″ />
<COLOR Register="0″ Spot="0″ RGB="#eee9bf" NAME="LemonChiffon2″ />
<COLOR Register="0″ Spot="0″ RGB="#cdc9a5″ NAME="LemonChiffon3″ />
<COLOR Register="0″ Spot="0″ RGB="#8b8970″ NAME="LemonChiffon4″ />
<COLOR Register="0″ Spot="0″ RGB="#add8e6″ NAME="LightBlue" />
<COLOR Register="0″ Spot="0″ RGB="#bfefff" NAME="LightBlue1″ />
<COLOR Register="0″ Spot="0″ RGB="#b2dfee" NAME="LightBlue2″ />
<COLOR Register="0″ Spot="0″ RGB="#9ac0cd" NAME="LightBlue3″ />
<COLOR Register="0″ Spot="0″ RGB="#68838b" NAME="LightBlue4″ />
<COLOR Register="0″ Spot="0″ RGB="#f08080″ NAME="LightCoral" />
<COLOR Register="0″ Spot="0″ RGB="#e0ffff" NAME="LightCyan" />
<COLOR Register="0″ Spot="0″ RGB="#e0ffff" NAME="LightCyan1″ />
<COLOR Register="0″ Spot="0″ RGB="#d1eeee" NAME="LightCyan2″ />
<COLOR Register="0″ Spot="0″ RGB="#b4cdcd" NAME="LightCyan3″ />
<COLOR Register="0″ Spot="0″ RGB="#7a8b8b" NAME="LightCyan4″ />
<COLOR Register="0″ Spot="0″ RGB="#eedd82″ NAME="LightGoldenrod" />
<COLOR Register="0″ Spot="0″ RGB="#ffec8b" NAME="LightGoldenrod1″ />
<COLOR Register="0″ Spot="0″ RGB="#eedc82″ NAME="LightGoldenrod2″ />
<COLOR Register="0″ Spot="0″ RGB="#cdbe70″ NAME="LightGoldenrod3″ />
<COLOR Register="0″ Spot="0″ RGB="#8b814c" NAME="LightGoldenrod4″ />
<COLOR Register="0″ Spot="0″ RGB="#fafad2″ NAME="LightGoldenrodYellow" />
<COLOR Register="0″ Spot="0″ RGB="#90ee90″ NAME="LightGreen" />
<COLOR Register="0″ Spot="0″ RGB="#d3d3d3″ NAME="LightGrey" />
<COLOR Register="0″ Spot="0″ RGB="#ffb6c1″ NAME="LightPink" />
<COLOR Register="0″ Spot="0″ RGB="#ffaeb9″ NAME="LightPink1″ />
<COLOR Register="0″ Spot="0″ RGB="#eea2ad" NAME="LightPink2″ />
<COLOR Register="0″ Spot="0″ RGB="#cd8c95″ NAME="LightPink3″ />
<COLOR Register="0″ Spot="0″ RGB="#8b5f65″ NAME="LightPink4″ />
<COLOR Register="0″ Spot="0″ RGB="#ffa07a" NAME="LightSalmon" />
<COLOR Register="0″ Spot="0″ RGB="#ffa07a" NAME="LightSalmon1″ />
<COLOR Register="0″ Spot="0″ RGB="#ee9572″ NAME="LightSalmon2″ />
<COLOR Register="0″ Spot="0″ RGB="#cd8162″ NAME="LightSalmon3″ />
<COLOR Register="0″ Spot="0″ RGB="#8b5742″ NAME="LightSalmon4″ />
<COLOR Register="0″ Spot="0″ RGB="#20b2aa" NAME="LightSeaGreen" />
<COLOR Register="0″ Spot="0″ RGB="#87cefa" NAME="LightSkyBlue" />
<COLOR Register="0″ Spot="0″ RGB="#b0e2ff" NAME="LightSkyBlue1″ />
<COLOR Register="0″ Spot="0″ RGB="#a4d3ee" NAME="LightSkyBlue2″ />
<COLOR Register="0″ Spot="0″ RGB="#8db6cd" NAME="LightSkyBlue3″ />
<COLOR Register="0″ Spot="0″ RGB="#607b8b" NAME="LightSkyBlue4″ />
<COLOR Register="0″ Spot="0″ RGB="#8470ff" NAME="LightSlateBlue" />
<COLOR Register="0″ Spot="0″ RGB="#778899″ NAME="LightSlateGrey" />
<COLOR Register="0″ Spot="0″ RGB="#b0c4de" NAME="LightSteelBlue" />
<COLOR Register="0″ Spot="0″ RGB="#cae1ff" NAME="LightSteelBlue1″ />
<COLOR Register="0″ Spot="0″ RGB="#bcd2ee" NAME="LightSteelBlue2″ />
<COLOR Register="0″ Spot="0″ RGB="#a2b5cd" NAME="LightSteelBlue3″ />
<COLOR Register="0″ Spot="0″ RGB="#6e7b8b" NAME="LightSteelBlue4″ />
<COLOR Register="0″ Spot="0″ RGB="#ffffe0″ NAME="LightYellow" />
<COLOR Register="0″ Spot="0″ RGB="#ffffe0″ NAME="LightYellow1″ />
<COLOR Register="0″ Spot="0″ RGB="#eeeed1″ NAME="LightYellow2″ />
<COLOR Register="0″ Spot="0″ RGB="#cdcdb4″ NAME="LightYellow3″ />
<COLOR Register="0″ Spot="0″ RGB="#8b8b7a" NAME="LightYellow4″ />
<COLOR Register="0″ Spot="0″ RGB="#32cd32″ NAME="LimeGreen" />
<COLOR Register="0″ Spot="0″ RGB="#faf0e6″ NAME="Linen" />
<COLOR Register="0″ Spot="0″ RGB="#ff00ff" NAME="Magenta" />
<COLOR Register="0″ Spot="0″ RGB="#ff00ff" NAME="Magenta1″ />
<COLOR Register="0″ Spot="0″ RGB="#ee00ee" NAME="Magenta2″ />
<COLOR Register="0″ Spot="0″ RGB="#cd00cd" NAME="Magenta3″ />
<COLOR Register="0″ Spot="0″ RGB="#8b008b" NAME="Magenta4″ />
<COLOR Register="0″ Spot="0″ RGB="#b03060″ NAME="Maroon" />
<COLOR Register="0″ Spot="0″ RGB="#ff34b3″ NAME="Maroon1″ />
<COLOR Register="0″ Spot="0″ RGB="#ee30a7″ NAME="Maroon2″ />
<COLOR Register="0″ Spot="0″ RGB="#cd2990″ NAME="Maroon3″ />
<COLOR Register="0″ Spot="0″ RGB="#8b1c62″ NAME="Maroon4″ />
<COLOR Register="0″ Spot="0″ RGB="#66cdaa" NAME="MediumAquamarine" />
<COLOR Register="0″ Spot="0″ RGB="#0000cd" NAME="MediumBlue" />
<COLOR Register="0″ Spot="0″ RGB="#ba55d3″ NAME="MediumOrchid" />
<COLOR Register="0″ Spot="0″ RGB="#e066ff" NAME="MediumOrchid1″ />
<COLOR Register="0″ Spot="0″ RGB="#d15fee" NAME="MediumOrchid2″ />
<COLOR Register="0″ Spot="0″ RGB="#b452cd" NAME="MediumOrchid3″ />
<COLOR Register="0″ Spot="0″ RGB="#7a378b" NAME="MediumOrchid4″ />
<COLOR Register="0″ Spot="0″ RGB="#9370db" NAME="MediumPurple" />
<COLOR Register="0″ Spot="0″ RGB="#ab82ff" NAME="MediumPurple1″ />
<COLOR Register="0″ Spot="0″ RGB="#9f79ee" NAME="MediumPurple2″ />
<COLOR Register="0″ Spot="0″ RGB="#8968cd" NAME="MediumPurple3″ />
<COLOR Register="0″ Spot="0″ RGB="#5d478b" NAME="MediumPurple4″ />
<COLOR Register="0″ Spot="0″ RGB="#3cb371″ NAME="MediumSeaGreen" />
<COLOR Register="0″ Spot="0″ RGB="#7b68ee" NAME="MediumSlateBlue" />
<COLOR Register="0″ Spot="0″ RGB="#00fa9a" NAME="MediumSpringGreen" />
<COLOR Register="0″ Spot="0″ RGB="#48d1cc" NAME="MediumTurquoise" />
<COLOR Register="0″ Spot="0″ RGB="#c71585″ NAME="MediumVioletRed" />
<COLOR Register="0″ Spot="0″ RGB="#191970″ NAME="MidnightBlue" />
<COLOR Register="0″ Spot="0″ RGB="#f5fffa" NAME="MintCream" />
<COLOR Register="0″ Spot="0″ RGB="#ffe4e1″ NAME="MistyRose" />
<COLOR Register="0″ Spot="0″ RGB="#ffe4e1″ NAME="MistyRose1″ />
<COLOR Register="0″ Spot="0″ RGB="#eed5d2″ NAME="MistyRose2″ />
<COLOR Register="0″ Spot="0″ RGB="#cdb7b5″ NAME="MistyRose3″ />
<COLOR Register="0″ Spot="0″ RGB="#8b7d7b" NAME="MistyRose4″ />
<COLOR Register="0″ Spot="0″ RGB="#ffe4b5″ NAME="Moccasin" />
<COLOR Register="0″ Spot="0″ RGB="#ffdead" NAME="NavajoWhite" />
<COLOR Register="0″ Spot="0″ RGB="#ffdead" NAME="NavajoWhite1″ />
<COLOR Register="0″ Spot="0″ RGB="#eecfa1″ NAME="NavajoWhite2″ />
<COLOR Register="0″ Spot="0″ RGB="#cdb38b" NAME="NavajoWhite3″ />
<COLOR Register="0″ Spot="0″ RGB="#8b795e" NAME="NavajoWhite4″ />
<COLOR Register="0″ Spot="0″ RGB="#000080″ NAME="NavyBlue" />
<COLOR Register="0″ Spot="0″ RGB="#fdf5e6″ NAME="OldLace" />
<COLOR Register="0″ Spot="0″ RGB="#6b8e23″ NAME="OliveDrab" />
<COLOR Register="0″ Spot="0″ RGB="#c0ff3e" NAME="OliveDrab1″ />
<COLOR Register="0″ Spot="0″ RGB="#b3ee3a" NAME="OliveDrab2″ />
<COLOR Register="0″ Spot="0″ RGB="#9acd32″ NAME="OliveDrab3″ />
<COLOR Register="0″ Spot="0″ RGB="#698b22″ NAME="OliveDrab4″ />
<COLOR Register="0″ Spot="0″ RGB="#ffa500″ NAME="Orange" />
<COLOR Register="0″ Spot="0″ RGB="#ffa500″ NAME="Orange1″ />
<COLOR Register="0″ Spot="0″ RGB="#ee9a00″ NAME="Orange2″ />
<COLOR Register="0″ Spot="0″ RGB="#cd8500″ NAME="Orange3″ />
<COLOR Register="0″ Spot="0″ RGB="#8b5a00″ NAME="Orange4″ />
<COLOR Register="0″ Spot="0″ RGB="#ff4500″ NAME="OrangeRed" />
<COLOR Register="0″ Spot="0″ RGB="#ff4500″ NAME="OrangeRed1″ />
<COLOR Register="0″ Spot="0″ RGB="#ee4000″ NAME="OrangeRed2″ />
<COLOR Register="0″ Spot="0″ RGB="#cd3700″ NAME="OrangeRed3″ />
<COLOR Register="0″ Spot="0″ RGB="#8b2500″ NAME="OrangeRed4″ />
<COLOR Register="0″ Spot="0″ RGB="#da70d6″ NAME="Orchid" />
<COLOR Register="0″ Spot="0″ RGB="#ff83fa" NAME="Orchid1″ />
<COLOR Register="0″ Spot="0″ RGB="#ee7ae9″ NAME="Orchid2″ />
<COLOR Register="0″ Spot="0″ RGB="#cd69c9″ NAME="Orchid3″ />
<COLOR Register="0″ Spot="0″ RGB="#8b4789″ NAME="Orchid4″ />
<COLOR Register="0″ Spot="0″ RGB="#eee8aa" NAME="PaleGoldenrod" />
<COLOR Register="0″ Spot="0″ RGB="#98fb98″ NAME="PaleGreen" />
<COLOR Register="0″ Spot="0″ RGB="#9aff9a" NAME="PaleGreen1″ />
<COLOR Register="0″ Spot="0″ RGB="#90ee90″ NAME="PaleGreen2″ />
<COLOR Register="0″ Spot="0″ RGB="#7ccd7c" NAME="PaleGreen3″ />
<COLOR Register="0″ Spot="0″ RGB="#548b54″ NAME="PaleGreen4″ />
<COLOR Register="0″ Spot="0″ RGB="#afeeee" NAME="PaleTurquoise" />
<COLOR Register="0″ Spot="0″ RGB="#bbffff" NAME="PaleTurquoise1″ />
<COLOR Register="0″ Spot="0″ RGB="#aeeeee" NAME="PaleTurquoise2″ />
<COLOR Register="0″ Spot="0″ RGB="#96cdcd" NAME="PaleTurquoise3″ />
<COLOR Register="0″ Spot="0″ RGB="#668b8b" NAME="PaleTurquoise4″ />
<COLOR Register="0″ Spot="0″ RGB="#db7093″ NAME="PaleVioletRed" />
<COLOR Register="0″ Spot="0″ RGB="#ff82ab" NAME="PaleVioletRed1″ />
<COLOR Register="0″ Spot="0″ RGB="#ee799f" NAME="PaleVioletRed2″ />
<COLOR Register="0″ Spot="0″ RGB="#cd6889″ NAME="PaleVioletRed3″ />
<COLOR Register="0″ Spot="0″ RGB="#8b475d" NAME="PaleVioletRed4″ />
<COLOR Register="0″ Spot="0″ RGB="#ffefd5″ NAME="PapayaWhip" />
<COLOR Register="0″ Spot="0″ RGB="#ffdab9″ NAME="PeachPuff" />
<COLOR Register="0″ Spot="0″ RGB="#ffdab9″ NAME="PeachPuff1″ />
<COLOR Register="0″ Spot="0″ RGB="#eecbad" NAME="PeachPuff2″ />
<COLOR Register="0″ Spot="0″ RGB="#cdaf95″ NAME="PeachPuff3″ />
<COLOR Register="0″ Spot="0″ RGB="#8b7765″ NAME="PeachPuff4″ />
<COLOR Register="0″ Spot="0″ RGB="#cd853f" NAME="Peru" />
<COLOR Register="0″ Spot="0″ RGB="#ffc0cb" NAME="Pink" />
<COLOR Register="0″ Spot="0″ RGB="#ffb5c5″ NAME="Pink1″ />
<COLOR Register="0″ Spot="0″ RGB="#eea9b8″ NAME="Pink2″ />
<COLOR Register="0″ Spot="0″ RGB="#cd919e" NAME="Pink3″ />
<COLOR Register="0″ Spot="0″ RGB="#8b636c" NAME="Pink4″ />
<COLOR Register="0″ Spot="0″ RGB="#dda0dd" NAME="Plum" />
<COLOR Register="0″ Spot="0″ RGB="#ffbbff" NAME="Plum1″ />
<COLOR Register="0″ Spot="0″ RGB="#eeaeee" NAME="Plum2″ />
<COLOR Register="0″ Spot="0″ RGB="#cd96cd" NAME="Plum3″ />
<COLOR Register="0″ Spot="0″ RGB="#8b668b" NAME="Plum4″ />
<COLOR Register="0″ Spot="0″ RGB="#b0e0e6″ NAME="PowderBlue" />
<COLOR Register="0″ Spot="0″ RGB="#a020f0″ NAME="Purple" />
<COLOR Register="0″ Spot="0″ RGB="#9b30ff" NAME="Purple1″ />
<COLOR Register="0″ Spot="0″ RGB="#912cee" NAME="Purple2″ />
<COLOR Register="0″ Spot="0″ RGB="#7d26cd" NAME="Purple3″ />
<COLOR Register="0″ Spot="0″ RGB="#551a8b" NAME="Purple4″ />
<COLOR Register="0″ Spot="0″ RGB="#ff0000″ NAME="Red" />
<COLOR Register="0″ Spot="0″ RGB="#ff0000″ NAME="Red1″ />
<COLOR Register="0″ Spot="0″ RGB="#ee0000″ NAME="Red2″ />
<COLOR Register="0″ Spot="0″ RGB="#cd0000″ NAME="Red3″ />
<COLOR Register="0″ Spot="0″ RGB="#8b0000″ NAME="Red4″ />
<COLOR Register="0″ Spot="0″ RGB="#bc8f8f" NAME="RosyBrown" />
<COLOR Register="0″ Spot="0″ RGB="#ffc1c1″ NAME="RosyBrown1″ />
<COLOR Register="0″ Spot="0″ RGB="#eeb4b4″ NAME="RosyBrown2″ />
<COLOR Register="0″ Spot="0″ RGB="#cd9b9b" NAME="RosyBrown3″ />
<COLOR Register="0″ Spot="0″ RGB="#8b6969″ NAME="RosyBrown4″ />
<COLOR Register="0″ Spot="0″ RGB="#4169e1″ NAME="RoyalBlue" />
<COLOR Register="0″ Spot="0″ RGB="#4876ff" NAME="RoyalBlue1″ />
<COLOR Register="0″ Spot="0″ RGB="#436eee" NAME="RoyalBlue2″ />
<COLOR Register="0″ Spot="0″ RGB="#3a5fcd" NAME="RoyalBlue3″ />
<COLOR Register="0″ Spot="0″ RGB="#27408b" NAME="RoyalBlue4″ />
<COLOR Register="0″ Spot="0″ RGB="#8b4513″ NAME="SaddleBrown" />
<COLOR Register="0″ Spot="0″ RGB="#fa8072″ NAME="Salmon" />
<COLOR Register="0″ Spot="0″ RGB="#ff8c69″ NAME="Salmon1″ />
<COLOR Register="0″ Spot="0″ RGB="#ee8262″ NAME="Salmon2″ />
<COLOR Register="0″ Spot="0″ RGB="#cd7054″ NAME="Salmon3″ />
<COLOR Register="0″ Spot="0″ RGB="#8b4c39″ NAME="Salmon4″ />
<COLOR Register="0″ Spot="0″ RGB="#f4a460″ NAME="SandyBrown" />
<COLOR Register="0″ Spot="0″ RGB="#2e8b57″ NAME="SeaGreen" />
<COLOR Register="0″ Spot="0″ RGB="#54ff9f" NAME="SeaGreen1″ />
<COLOR Register="0″ Spot="0″ RGB="#4eee94″ NAME="SeaGreen2″ />
<COLOR Register="0″ Spot="0″ RGB="#43cd80″ NAME="SeaGreen3″ />
<COLOR Register="0″ Spot="0″ RGB="#2e8b57″ NAME="SeaGreen4″ />
<COLOR Register="0″ Spot="0″ RGB="#fff5ee" NAME="Seashell" />
<COLOR Register="0″ Spot="0″ RGB="#fff5ee" NAME="Seashell1″ />
<COLOR Register="0″ Spot="0″ RGB="#eee5de" NAME="Seashell2″ />
<COLOR Register="0″ Spot="0″ RGB="#cdc5bf" NAME="Seashell3″ />
<COLOR Register="0″ Spot="0″ RGB="#8b8682″ NAME="Seashell4″ />
<COLOR Register="0″ Spot="0″ RGB="#a0522d" NAME="Sienna" />
<COLOR Register="0″ Spot="0″ RGB="#ff8247″ NAME="Sienna1″ />
<COLOR Register="0″ Spot="0″ RGB="#ee7942″ NAME="Sienna2″ />
<COLOR Register="0″ Spot="0″ RGB="#cd6839″ NAME="Sienna3″ />
<COLOR Register="0″ Spot="0″ RGB="#8b4726″ NAME="Sienna4″ />
<COLOR Register="0″ Spot="0″ RGB="#87ceeb" NAME="SkyBlue" />
<COLOR Register="0″ Spot="0″ RGB="#87ceff" NAME="SkyBlue1″ />
<COLOR Register="0″ Spot="0″ RGB="#7ec0ee" NAME="SkyBlue2″ />
<COLOR Register="0″ Spot="0″ RGB="#6ca6cd" NAME="SkyBlue3″ />
<COLOR Register="0″ Spot="0″ RGB="#4a708b" NAME="SkyBlue4″ />
<COLOR Register="0″ Spot="0″ RGB="#6a5acd" NAME="SlateBlue" />
<COLOR Register="0″ Spot="0″ RGB="#836fff" NAME="SlateBlue1″ />
<COLOR Register="0″ Spot="0″ RGB="#7a67ee" NAME="SlateBlue2″ />
<COLOR Register="0″ Spot="0″ RGB="#6959cd" NAME="SlateBlue3″ />
<COLOR Register="0″ Spot="0″ RGB="#473c8b" NAME="SlateBlue4″ />
<COLOR Register="0″ Spot="0″ RGB="#708090″ NAME="SlateGrey" />
<COLOR Register="0″ Spot="0″ RGB="#c6e2ff" NAME="SlateGrey1″ />
<COLOR Register="0″ Spot="0″ RGB="#b9d3ee" NAME="SlateGrey2″ />
<COLOR Register="0″ Spot="0″ RGB="#9fb6cd" NAME="SlateGrey3″ />
<COLOR Register="0″ Spot="0″ RGB="#6c7b8b" NAME="SlateGrey4″ />
<COLOR Register="0″ Spot="0″ RGB="#fffafa" NAME="Snow" />
<COLOR Register="0″ Spot="0″ RGB="#fffafa" NAME="Snow1″ />
<COLOR Register="0″ Spot="0″ RGB="#eee9e9″ NAME="Snow2″ />
<COLOR Register="0″ Spot="0″ RGB="#cdc9c9″ NAME="Snow3″ />
<COLOR Register="0″ Spot="0″ RGB="#8b8989″ NAME="Snow4″ />
<COLOR Register="0″ Spot="0″ RGB="#00ff7f" NAME="SpringGreen" />
<COLOR Register="0″ Spot="0″ RGB="#00ff7f" NAME="SpringGreen1″ />
<COLOR Register="0″ Spot="0″ RGB="#00ee76″ NAME="SpringGreen2″ />
<COLOR Register="0″ Spot="0″ RGB="#00cd66″ NAME="SpringGreen3″ />
<COLOR Register="0″ Spot="0″ RGB="#008b45″ NAME="SpringGreen4″ />
<COLOR Register="0″ Spot="0″ RGB="#4682b4″ NAME="SteelBlue" />
<COLOR Register="0″ Spot="0″ RGB="#63b8ff" NAME="SteelBlue1″ />
<COLOR Register="0″ Spot="0″ RGB="#5cacee" NAME="SteelBlue2″ />
<COLOR Register="0″ Spot="0″ RGB="#4f94cd" NAME="SteelBlue3″ />
<COLOR Register="0″ Spot="0″ RGB="#36648b" NAME="SteelBlue4″ />
<COLOR Register="0″ Spot="0″ RGB="#d2b48c" NAME="Tan" />
<COLOR Register="0″ Spot="0″ RGB="#ffa54f" NAME="Tan1″ />
<COLOR Register="0″ Spot="0″ RGB="#ee9a49″ NAME="Tan2″ />
<COLOR Register="0″ Spot="0″ RGB="#cd853f" NAME="Tan3″ />
<COLOR Register="0″ Spot="0″ RGB="#8b5a2b" NAME="Tan4″ />
<COLOR Register="0″ Spot="0″ RGB="#d8bfd8″ NAME="Thistle" />
<COLOR Register="0″ Spot="0″ RGB="#ffe1ff" NAME="Thistle1″ />
<COLOR Register="0″ Spot="0″ RGB="#eed2ee" NAME="Thistle2″ />
<COLOR Register="0″ Spot="0″ RGB="#cdb5cd" NAME="Thistle3″ />
<COLOR Register="0″ Spot="0″ RGB="#8b7b8b" NAME="Thistle4″ />
<COLOR Register="0″ Spot="0″ RGB="#ff6347″ NAME="Tomato" />
<COLOR Register="0″ Spot="0″ RGB="#ff6347″ NAME="Tomato1″ />
<COLOR Register="0″ Spot="0″ RGB="#ee5c42″ NAME="Tomato2″ />
<COLOR Register="0″ Spot="0″ RGB="#cd4f39″ NAME="Tomato3″ />
<COLOR Register="0″ Spot="0″ RGB="#8b3626″ NAME="Tomato4″ />
<COLOR Register="0″ Spot="0″ RGB="#40e0d0″ NAME="Turquoise" />
<COLOR Register="0″ Spot="0″ RGB="#00f5ff" NAME="Turquoise1″ />
<COLOR Register="0″ Spot="0″ RGB="#00e5ee" NAME="Turquoise2″ />
<COLOR Register="0″ Spot="0″ RGB="#00c5cd" NAME="Turquoise3″ />
<COLOR Register="0″ Spot="0″ RGB="#00868b" NAME="Turquoise4″ />
<COLOR Register="0″ Spot="0″ RGB="#ee82ee" NAME="Violet" />
<COLOR Register="0″ Spot="0″ RGB="#d02090″ NAME="VioletRed" />
<COLOR Register="0″ Spot="0″ RGB="#ff3e96″ NAME="VioletRed1″ />
<COLOR Register="0″ Spot="0″ RGB="#ee3a8c" NAME="VioletRed2″ />
<COLOR Register="0″ Spot="0″ RGB="#cd3278″ NAME="VioletRed3″ />
<COLOR Register="0″ Spot="0″ RGB="#8b2252″ NAME="VioletRed4″ />
<COLOR Register="0″ Spot="0″ RGB="#f5deb3″ NAME="Wheat" />
<COLOR Register="0″ Spot="0″ RGB="#ffe7ba" NAME="Wheat1″ />
<COLOR Register="0″ Spot="0″ RGB="#eed8ae" NAME="Wheat2″ />
<COLOR Register="0″ Spot="0″ RGB="#cdba96″ NAME="Wheat3″ />
<COLOR Register="0″ Spot="0″ RGB="#8b7e66″ NAME="Wheat4″ />
<COLOR Register="0″ Spot="0″ CMYK="#00000000″ NAME="White" />
<COLOR Register="0″ Spot="0″ RGB="#f5f5f5″ NAME="WhiteSmoke" />
<COLOR Register="0″ Spot="0″ RGB="#ffff00″ NAME="Yellow" />
<COLOR Register="0″ Spot="0″ RGB="#ffff00″ NAME="Yellow1″ />
<COLOR Register="0″ Spot="0″ RGB="#eeee00″ NAME="Yellow2″ />
<COLOR Register="0″ Spot="0″ RGB="#cdcd00″ NAME="Yellow3″ />
<COLOR Register="0″ Spot="0″ RGB="#8b8b00″ NAME="Yellow4″ />
<COLOR Register="0″ Spot="0″ RGB="#9acd32″ NAME="YellowGreen" />
<ITEM BottomLine="0″ REXTRA="0″ LANGUAGE="English" NUMPO="0″ PLINEART="1″ TXTSCALE="100″ ALIGN="0″ RightLine="0″ LOCALSCX="1″ LINESP="14.4″ ROT="89.905″ TXTSHX="5″ TXTSTROKE="Black" WIDTH="603.001″ BACKPAGE="-1″ GROUPS="" LOCKR="0″ IFONT="Times New Roman Regular" LOCALSCY="1″ NAMEDLST="" TXTSHY="-5″ AUTOTEXT="0″ FLIPPEDV="0″ PCOLOR="None" RADRECT="0″ REVERS="0″ PRINTABLE="1″ RATIO="1″ FLIPPEDH="0″ COLGAP="14.4″ PCOLOR2="Black" NEXTITEM="-1″ NUMGROUP="0″ TransValue="0″ PLINEEND="0″ TXTSTW="-0.1″ FRTYPE="0″ PTYPE="5″ isTableItem="0″ TEXTFLOW2="0″ SHADE2="100″ TXTBASE="0″ PWIDTH="1″ HEIGHT="1″ DASHOFF="0″ PFILE2="" PFILE="" TEXTFLOW3="0″ ISIZE="12″ PLTSHOW="0″ LINESPMode="0″ TXTSTYLE="0″ CLIPEDIT="0″ BACKITEM="-1″ TransValueS="0″ EMBEDDED="1″ PFILE3="" ANNAME="" SHADE="100″ TXTULP="-0.1″ NUMTEXT="0″ fillRule="1″ COCOOR="" BASEOF="0″ PICART="1″ TXTKERN="0″ COLUMNS="1″ TEXTCOOR="" BOOKMARK="0″ startArrowIndex="0″ TopLine="0″ LOCK="0″ EPROF="" DASHS="" IRENDER="1″ TEXTFLOW="0″ TXTFILLSH="100″ YPOS="-1″ ANNOTATION="0″ LOCALX="0″ GRTYP="0″ XPOS="-562.89″ NUMCO="0″ POCOOR="" EXTRA="0″ LOCALY="0″ NEXTPAGE="-1″ NUMDASH="0″ LeftLine="0″ PRFILE="" TEXTRA="0″ SCALETYPE="1″ TXTOUT="1″ TXTFILL="Black" endArrowIndex="0″ BEXTRA="0″ PLINEJOIN="0″ TXTSTP="-0.1″ TXTULW="-0.1″ TXTSCALEV="100″ TXTSTRSH="100″ />
<ITEM BottomLine="0″ REXTRA="0″ LANGUAGE="English" NUMPO="0″ PLINEART="1″ TXTSCALE="100″ ALIGN="0″ RightLine="0″ LOCALSCX="1″ LINESP="14.4″ ROT="89.905″ TXTSHX="5″ TXTSTROKE="Black" WIDTH="603.001″ BACKPAGE="-1″ GROUPS="" LOCKR="0″ IFONT="Times New Roman Regular" LOCALSCY="1″ NAMEDLST="" TXTSHY="-5″ AUTOTEXT="0″ FLIPPEDV="0″ PCOLOR="None" RADRECT="0″ REVERS="0″ PRINTABLE="1″ RATIO="1″ FLIPPEDH="0″ COLGAP="14.4″ PCOLOR2="Black" NEXTITEM="-1″ NUMGROUP="0″ TransValue="0″ PLINEEND="0″ TXTSTW="-0.1″ FRTYPE="0″ PTYPE="5″ isTableItem="0″ TEXTFLOW2="0″ SHADE2="100″ TXTBASE="0″ PWIDTH="1″ HEIGHT="1″ DASHOFF="0″ PFILE2="" PFILE="" TEXTFLOW3="0″ ISIZE="12″ PLTSHOW="0″ LINESPMode="0″ TXTSTYLE="0″ CLIPEDIT="0″ BACKITEM="-1″ TransValueS="0″ EMBEDDED="1″ PFILE3="" ANNAME="" SHADE="100″ TXTULP="-0.1″ NUMTEXT="0″ fillRule="1″ COCOOR="" BASEOF="0″ PICART="1″ TXTKERN="0″ COLUMNS="1″ TEXTCOOR="" BOOKMARK="0″ startArrowIndex="0″ TopLine="0″ LOCK="0″ EPROF="" DASHS="" IRENDER="1″ TEXTFLOW="0″ TXTFILLSH="100″ YPOS="-1″ ANNOTATION="0″ LOCALX="0″ GRTYP="0″ XPOS="-562.89″ NUMCO="0″ POCOOR="" EXTRA="0″ LOCALY="0″ NEXTPAGE="-1″ NUMDASH="0″ LeftLine="0″ PRFILE="" TEXTRA="0″ SCALETYPE="1″ TXTOUT="1″ TXTFILL="Black" endArrowIndex="0″ BEXTRA="0″ PLINEJOIN="0″ TXTSTP="-0.1″ TXTULW="-0.1″ TXTSCALEV="100″ TXTSTRSH="100″ />
<ITEM BottomLine="0″ REXTRA="0″ LANGUAGE="English" NUMPO="0″ PLINEART="1″ TXTSCALE="100″ ALIGN="0″ RightLine="0″ LOCALSCX="1″ LINESP="14.4″ ROT="89.905″ TXTSHX="5″ TXTSTROKE="Black" WIDTH="603.001″ BACKPAGE="-1″ GROUPS="" LOCKR="0″ IFONT="Times New Roman Regular" LOCALSCY="1″ NAMEDLST="" TXTSHY="-5″ AUTOTEXT="0″ FLIPPEDV="0″ PCOLOR="None" RADRECT="0″ REVERS="0″ PRINTABLE="1″ RATIO="1″ FLIPPEDH="0″ COLGAP="14.4″ PCOLOR2="Black" NEXTITEM="-1″ NUMGROUP="0″ TransValue="0″ PLINEEND="0″ TXTSTW="-0.1″ FRTYPE="0″ PTYPE="5″ isTableItem="0″ TEXTFLOW2="0″ SHADE2="100″ TXTBASE="0″ PWIDTH="1″ HEIGHT="1″ DASHOFF="0″ PFILE2="" PFILE="" TEXTFLOW3="0″ ISIZE="12″ PLTSHOW="0″ LINESPMode="0″ TXTSTYLE="0″ CLIPEDIT="0″ BACKITEM="-1″ TransValueS="0″ EMBEDDED="1″ PFILE3="" ANNAME="" SHADE="100″ TXTULP="-0.1″ NUMTEXT="0″ fillRule="1″ COCOOR="" BASEOF="0″ PICART="1″ TXTKERN="0″ COLUMNS="1″ TEXTCOOR="" BOOKMARK="0″ startArrowIndex="0″ TopLine="0″ LOCK="0″ EPROF="" DASHS="" IRENDER="1″ TEXTFLOW="0″ TXTFILLSH="100″ YPOS="1″ ANNOTATION="0″ LOCALX="0″ GRTYP="0″ XPOS="-283.89″ NUMCO="0″ POCOOR="" EXTRA="0″ LOCALY="0″ NEXTPAGE="-1″ NUMDASH="0″ LeftLine="0″ PRFILE="" TEXTRA="0″ SCALETYPE="1″ TXTOUT="1″ TXTFILL="Black" endArrowIndex="0″ BEXTRA="0″ PLINEJOIN="0″ TXTSTP="-0.1″ TXTULW="-0.1″ TXTSCALEV="100″ TXTSTRSH="100″ />
<ITEM BottomLine="0″ REXTRA="0″ LANGUAGE="English" NUMPO="0″ PLINEART="1″ TXTSCALE="100″ ALIGN="0″ RightLine="0″ LOCALSCX="1″ LINESP="14.4″ ROT="89.905″ TXTSHX="5″ TXTSTROKE="Black" WIDTH="603.001″ BACKPAGE="-1″ GROUPS="" LOCKR="0″ IFONT="Times New Roman Regular" LOCALSCY="1″ NAMEDLST="" TXTSHY="-5″ AUTOTEXT="0″ FLIPPEDV="0″ PCOLOR="None" RADRECT="0″ REVERS="0″ PRINTABLE="1″ RATIO="1″ FLIPPEDH="0″ COLGAP="14.4″ PCOLOR2="Black" NEXTITEM="-1″ NUMGROUP="0″ TransValue="0″ PLINEEND="0″ TXTSTW="-0.1″ FRTYPE="0″ PTYPE="5″ isTableItem="0″ TEXTFLOW2="0″ SHADE2="100″ TXTBASE="0″ PWIDTH="1″ HEIGHT="1″ DASHOFF="0″ PFILE2="" PFILE="" TEXTFLOW3="0″ ISIZE="12″ PLTSHOW="0″ LINESPMode="0″ TXTSTYLE="0″ CLIPEDIT="0″ BACKITEM="-1″ TransValueS="0″ EMBEDDED="1″ PFILE3="" ANNAME="" SHADE="100″ TXTULP="-0.1″ NUMTEXT="0″ fillRule="1″ COCOOR="" BASEOF="0″ PICART="1″ TXTKERN="0″ COLUMNS="1″ TEXTCOOR="" BOOKMARK="0″ startArrowIndex="0″ TopLine="0″ LOCK="0″ EPROF="" DASHS="" IRENDER="1″ TEXTFLOW="0″ TXTFILLSH="100″ YPOS="2″ ANNOTATION="0″ LOCALX="0″ GRTYP="0″ XPOS="278.11″ NUMCO="0″ POCOOR="" EXTRA="0″ LOCALY="0″ NEXTPAGE="-1″ NUMDASH="0″ LeftLine="0″ PRFILE="" TEXTRA="0″ SCALETYPE="1″ TXTOUT="1″ TXTFILL="Black" endArrowIndex="0″ BEXTRA="0″ PLINEJOIN="0″ TXTSTP="-0.1″ TXTULW="-0.1″ TXTSCALEV="100″ TXTSTRSH="100″ />
<ITEM BottomLine="0″ REXTRA="0″ LANGUAGE="English" NUMPO="0″ PLINEART="1″ TXTSCALE="100″ ALIGN="0″ RightLine="0″ LOCALSCX="1″ LINESP="14.4″ ROT="89.905″ TXTSHX="5″ TXTSTROKE="Black" WIDTH="603.001″ BACKPAGE="-1″ GROUPS="" LOCKR="0″ IFONT="Times New Roman Regular" LOCALSCY="1″ NAMEDLST="" TXTSHY="-5″ AUTOTEXT="0″ FLIPPEDV="0″ PCOLOR="None" RADRECT="0″ REVERS="0″ PRINTABLE="1″ RATIO="1″ FLIPPEDH="0″ COLGAP="14.4″ PCOLOR2="Black" NEXTITEM="-1″ NUMGROUP="0″ TransValue="0″ PLINEEND="0″ TXTSTW="-0.1″ FRTYPE="0″ PTYPE="5″ isTableItem="0″ TEXTFLOW2="0″ SHADE2="100″ TXTBASE="0″ PWIDTH="1″ HEIGHT="1″ DASHOFF="0″ PFILE2="" PFILE="" TEXTFLOW3="0″ ISIZE="12″ PLTSHOW="0″ LINESPMode="0″ TXTSTYLE="0″ CLIPEDIT="0″ BACKITEM="-1″ TransValueS="0″ EMBEDDED="1″ PFILE3="" ANNAME="" SHADE="100″ TXTULP="-0.1″ NUMTEXT="0″ fillRule="1″ COCOOR="" BASEOF="0″ PICART="1″ TXTKERN="0″ COLUMNS="1″ TEXTCOOR="" BOOKMARK="0″ startArrowIndex="0″ TopLine="0″ LOCK="0″ EPROF="" DASHS="" IRENDER="1″ TEXTFLOW="0″ TXTFILLSH="100″ YPOS="4″ ANNOTATION="0″ LOCALX="0″ GRTYP="0″ XPOS="558.11″ NUMCO="0″ POCOOR="" EXTRA="0″ LOCALY="0″ NEXTPAGE="-1″ NUMDASH="0″ LeftLine="0″ PRFILE="" TEXTRA="0″ SCALETYPE="1″ TXTOUT="1″ TXTFILL="Black" endArrowIndex="0″ BEXTRA="0″ PLINEJOIN="0″ TXTSTP="-0.1″ TXTULW="-0.1″ TXTSCALEV="100″ TXTSTRSH="100″ />
<ITEM BottomLine="0″ REXTRA="0″ LANGUAGE="English" NUMPO="16″ PLINEART="1″ TXTSCALE="100″ ALIGN="0″ RightLine="0″ LOCALSCX="1″ LINESP="14.4″ ROT="0″ TXTSHX="5″ TXTSTROKE="Black" WIDTH="152″ BACKPAGE="-1″ GROUPS="" LOCKR="0″ IFONT="Times New Roman Regular" LOCALSCY="1″ NAMEDLST="" TXTSHY="-5″ AUTOTEXT="0″ FLIPPEDV="0″ PCOLOR="None" RADRECT="0″ REVERS="0″ PRINTABLE="1″ RATIO="1″ FLIPPEDH="0″ COLGAP="14.4″ PCOLOR2="None" NEXTITEM="-1″ NUMGROUP="0″ TransValue="0″ PLINEEND="0″ TXTSTW="-0.1″ FRTYPE="0″ PTYPE="4″ isTableItem="0″ TEXTFLOW2="0″ SHADE2="100″ TXTBASE="0″ PWIDTH="1″ HEIGHT="92.5″ DASHOFF="0″ PFILE2="" PFILE="" TEXTFLOW3="0″ ISIZE="12″ PLTSHOW="0″ LINESPMode="0″ TXTSTYLE="0″ CLIPEDIT="0″ BACKITEM="-1″ TransValueS="0″ EMBEDDED="1″ PFILE3="" ANNAME="" SHADE="100″ TXTULP="-0.1″ NUMTEXT="16″ fillRule="1″ COCOOR="0 0 0 0 152 0 152 0 152 0 152 0 152 92.5 152 92.5 152 92.5 152 92.5 0 92.5 0 92.5 0 92.5 0 92.5 0 0 0 0 " BASEOF="0″ PICART="1″ TXTKERN="0″ COLUMNS="1″ TEXTCOOR="3.44141 29.3398 25.1211 29.3398 49.2422 29.3398 65.043 29.3398 88.3242 29.3398 107.484 29.3398 123.285 29.3398 131.605 29.3398 0 44.6773 0 58.1398 0 72.5398 31.4395 72.5398 53.6855 72.5398 65.3262 72.5398 84.4863 72.5398 96.127 72.5398 " BOOKMARK="0″ startArrowIndex="0″ TopLine="0″ LOCK="0″ EPROF="" DASHS="" IRENDER="1″ TEXTFLOW="0″ TXTFILLSH="100″ YPOS="42″ ANNOTATION="0″ LOCALX="0″ GRTYP="0″ XPOS="-222.89″ NUMCO="16″ POCOOR="0 0 0 0 152 0 152 0 152 0 152 0 152 92.5 152 92.5 152 92.5 152 92.5 0 92.5 0 92.5 0 92.5 0 92.5 0 0 0 0 " EXTRA="0″ LOCALY="0″ NEXTPAGE="-1″ NUMDASH="0″ LeftLine="0″ PRFILE="" TEXTRA="0″ SCALETYPE="1″ TXTOUT="1″ TXTFILL="Black" endArrowIndex="0″ BEXTRA="0″ PLINEJOIN="0″ TXTSTP="-0.1″ TXTULW="-0.1″ TXTSCALEV="100″ TXTSTRSH="100″ >
<ITEXT CAB="1″ CCOLOR="Black" CBASE="0″ CSTW="-0.1″ CSIZE="40″ CULP="-0.1″ CH="Turner's&#x5;" CSHADE2="100″ CKERN="0″ CSCALE="100″ CSHADE="100″ COUT="1″ CSCALEV="100″ CSTP="-0.1″ CULW="-0.1″ CSTYLE="0″ CFONT="Palatino Linotype Regular" CSHX="5″ CSHY="-5″ CSTROKE="Black" />
<ITEXT CAB="1″ CCOLOR="Black" CBASE="0″ CSTW="-0.1″ CSIZE="12″ CULP="-0.1″ CH="&#x5;&#x5;" CSHADE2="100″ CKERN="0″ CSCALE="100″ CSHADE="100″ COUT="1″ CSCALEV="100″ CSTP="-0.1″ CULW="-0.1″ CSTYLE="0″ CFONT="Times New Roman Regular" CSHX="5″ CSHY="-5″ CSTROKE="Black" />
<ITEXT CAB="1″ CCOLOR="Black" CBASE="0″ CSTW="-0.1″ CSIZE="40″ CULP="-0.1″ CH="Field" CSHADE2="100″ CKERN="0″ CSCALE="100″ CSHADE="100″ COUT="1″ CSCALEV="100″ CSTP="-0.1″ CULW="-0.1″ CSTYLE="0″ CFONT="Palatino Linotype Regular" CSHX="5″ CSHY="-5″ CSTROKE="Black" />
</ITEM>
<ITEM BottomLine="0″ REXTRA="0″ LANGUAGE="English" NUMPO="16″ PLINEART="1″ TXTSCALE="100″ ALIGN="0″ RightLine="0″ LOCALSCX="1″ LINESP="14.4″ ROT="0″ TXTSHX="5″ TXTSTROKE="Black" WIDTH="152″ BACKPAGE="-1″ GROUPS="" LOCKR="0″ IFONT="Times New Roman Regular" LOCALSCY="1″ NAMEDLST="" TXTSHY="-5″ AUTOTEXT="0″ FLIPPEDV="0″ PCOLOR="None" RADRECT="0″ REVERS="0″ PRINTABLE="1″ RATIO="1″ FLIPPEDH="0″ COLGAP="14.4″ PCOLOR2="None" NEXTITEM="-1″ NUMGROUP="0″ TransValue="0″ PLINEEND="0″ TXTSTW="-0.1″ FRTYPE="0″ PTYPE="4″ isTableItem="0″ TEXTFLOW2="0″ SHADE2="100″ TXTBASE="0″ PWIDTH="1″ HEIGHT="92.5″ DASHOFF="0″ PFILE2="" PFILE="" TEXTFLOW3="0″ ISIZE="12″ PLTSHOW="0″ LINESPMode="0″ TXTSTYLE="0″ CLIPEDIT="0″ BACKITEM="-1″ TransValueS="0″ EMBEDDED="1″ PFILE3="" ANNAME="" SHADE="100″ TXTULP="-0.1″ NUMTEXT="12″ fillRule="1″ COCOOR="0 0 0 0 152 0 152 0 152 0 152 0 152 92.5 152 92.5 152 92.5 152 92.5 0 92.5 0 92.5 0 92.5 0 92.5 0 0 0 0 " BASEOF="0″ PICART="1″ TXTKERN="0″ COLUMNS="1″ TEXTCOOR="40.3164 30.043 71.7617 30.043 95.8828 30.043 0 44.6773 0 58.843 0 73.243 16.752 73.243 38.998 73.243 63.1191 73.243 76.166 73.243 100.287 73.243 116.088 73.243 " BOOKMARK="0″ startArrowIndex="0″ TopLine="0″ LOCK="0″ EPROF="" DASHS="" IRENDER="1″ TEXTFLOW="0″ TXTFILLSH="100″ YPOS="462″ ANNOTATION="0″ LOCALX="0″ GRTYP="0″ XPOS="-219.39″ NUMCO="16″ POCOOR="0 0 0 0 152 0 152 0 152 0 152 0 152 92.5 152 92.5 152 92.5 152 92.5 0 92.5 0 92.5 0 92.5 0 92.5 0 0 0 0 " EXTRA="0″ LOCALY="0″ NEXTPAGE="-1″ NUMDASH="0″ LeftLine="0″ PRFILE="" TEXTRA="0″ SCALETYPE="1″ TXTOUT="1″ TXTFILL="Black" endArrowIndex="0″ BEXTRA="0″ PLINEJOIN="0″ TXTSTP="-0.1″ TXTULW="-0.1″ TXTSCALEV="100″ TXTSTRSH="100″ >
<ITEXT CAB="1″ CCOLOR="Black" CBASE="0″ CSTW="-0.1″ CSIZE="40″ CULP="-0.1″ CH="Our&#x5;&#x5;&#x5;Future" CSHADE2="100″ CKERN="0″ CSCALE="100″ CSHADE="100″ COUT="1″ CSCALEV="100″ CSTP="-0.1″ CULW="-0.1″ CSTYLE="0″ CFONT="Palatino Linotype Regular" CSHX="5″ CSHY="-5″ CSTROKE="Black" />
</ITEM>
<ITEM BottomLine="0″ REXTRA="0″ LANGUAGE="English" NUMPO="16″ PLINEART="1″ TXTSCALE="100″ ALIGN="0″ RightLine="0″ LOCALSCX="1″ LINESP="14.4″ ROT="0″ TXTSHX="5″ TXTSTROKE="Black" WIDTH="199″ BACKPAGE="-1″ GROUPS="" LOCKR="0″ IFONT="Times New Roman Regular" LOCALSCY="1″ NAMEDLST="" TXTSHY="-5″ AUTOTEXT="0″ FLIPPEDV="0″ PCOLOR="None" RADRECT="0″ REVERS="0″ PRINTABLE="1″ RATIO="1″ FLIPPEDH="0″ COLGAP="14.4″ PCOLOR2="None" NEXTITEM="-1″ NUMGROUP="0″ TransValue="0″ PLINEEND="0″ TXTSTW="-0.1″ FRTYPE="0″ PTYPE="4″ isTableItem="0″ TEXTFLOW2="0″ SHADE2="100″ TXTBASE="0″ PWIDTH="1″ HEIGHT="283″ DASHOFF="0″ PFILE2="" PFILE="" TEXTFLOW3="0″ ISIZE="12″ PLTSHOW="0″ LINESPMode="0″ TXTSTYLE="0″ CLIPEDIT="0″ BACKITEM="-1″ TransValueS="0″ EMBEDDED="1″ PFILE3="" ANNAME="" SHADE="100″ TXTULP="-0.1″ NUMTEXT="445″ fillRule="1″ COCOOR="0 0 0 0 199 0 199 0 199 0 199 0 199 283 199 283 199 283 199 283 0 283 0 283 0 283 0 283 0 0 0 0 " BASEOF="0″ PICART="1″ TXTKERN="0″ COLUMNS="1″ TEXTCOOR="6.67969 12.6172 15.3516 12.6172 25 12.6172 31.3203 12.6172 40.6328 12.6172 48.2969 12.6172 54.6172 12.6172 57.9453 12.6172 64.7266 12.6172 68.7266 12.6172 77.625 12.6172 82.2812 12.6172 89.9453 12.6172 94.6016 12.6172 104.375 12.6172 108.375 12.6172 112.375 12.6172 124.953 12.6172 134.602 12.6172 140.922 12.6172 144.922 12.6172 153.82 12.6172 163.469 12.6172 168.688 12.6172 178.336 12.6172 184.656 12.6172 0 27.1109 0 41.4172 0 41.4172 4.7168 41.4172 12.8652 41.4172 33.4907 41.4172 38.0571 41.4172 46.2056 41.4172 52.9116 41.4172 73.5371 41.4172 81.6855 41.4172 88.3916 41.4172 95.3916 41.4172 100.922 41.4172 105.488 41.4172 126.114 41.4172 133.756 41.4172 138.418 41.4172 159.044 41.4172 169.934 41.4172 178.349 41.4172 186.764 41.4172 193.47 41.4172 199 41.4172 0 55.8172 8.01172 55.8172 15.0117 55.8172 20.542 55.8172 28.3281 55.8172 34.2617 55.8172 38.8281 55.8172 46.4707 55.8172 54.6191 55.8172 61.3252 55.8172 78.7036 55.8172 82.7778 55.8172 86.8521 55.8172 93.5581 55.8172 99.4917 55.8172 116.87 55.8172 123.87 55.8172 141.249 55.8172 145.911 55.8172 149.985 55.8172 156.691 55.8172 160.765 55.8172 169.317 55.8172 186.695 55.8172 194.338 55.8172 199 55.8172 0 70.2172 7.74512 70.2172 13.2754 70.2172 20.2754 70.2172 32.6348 70.2172 40.3799 70.2172 44.4541 70.2172 51.1602 70.2172 57.0938 70.2172 67.819 70.2172 74.819 70.2172 82.9674 70.2172 91.5192 70.2172 102.244 70.2172 110.66 70.2172 118.302 70.2172 124.236 70.2172 130.169 70.2172 134.243 70.2172 141.989 70.2172 146.063 70.2172 150.137 70.2172 154.211 70.2172 158.778 70.2172 162.852 70.2172 169.558 70.2172 175.492 70.2172 178.992 70.2172 189.717 70.2172 194.434 70.2172 199 70.2172 0 84.6172 11.2998 84.6172 18.2998 84.6172 24.2334 84.6172 31.0174 84.6172 35.0917 84.6172 41.7977 84.6172 46.4598 84.6172 51.0262 84.6172 57.8103 84.6172 62.3767 84.6172 70.0192 84.6172 76.8033 84.6172 85.2457 84.6172 91.1793 84.6172 97.9633 84.6172 104.963 84.6172 111.747 84.6172 116.314 84.6172 124.462 84.6172 131.168 84.6172 137.952 84.6172 146.367 84.6172 153.073 84.6172 160.716 84.6172 169.131 84.6172 173.205 84.6172 179.911 84.6172 186.695 84.6172 194.338 84.6172 199 84.6172 0 99.0172 8.01172 99.0172 15.6543 99.0172 23.2969 99.0172 27.3711 99.0172 34.0771 99.0172 40.2167 99.0172 47.2167 99.0172 53.3562 99.0172 60.3562 99.0172 68.5046 99.0172 77.0564 99.0172 83.1959 99.0172 87.2701 99.0172 91.8365 99.0172 97.976 99.0172 106.124 99.0172 113.124 99.0172 119.058 99.0172 125.198 99.0172 132.943 99.0172 139.649 99.0172 146.355 99.0172 154.503 99.0172 160.643 99.0172 164.717 99.0172 171.423 99.0172 176.085 99.0172 180.652 99.0172 186.791 99.0172 191.357 99.0172 199 99.0172 0 113.417 7.78613 113.417 15.4287 113.417 18.9287 113.417 30.6045 113.417 34.6787 113.417 38.7529 113.417 47.3047 113.417 0 127.817 0 142.217 0 142.217 13.6582 142.217 17.7324 142.217 21.8066 142.217 30.3584 142.217 38.5068 142.217 45.2129 142.217 51.1465 142.217 57.0801 142.217 71.9229 142.217 77.4531 142.217 84.1592 142.217 90.0928 142.217 94.6592 142.217 102.302 142.217 107.832 142.217 114.538 142.217 120.472 142.217 135.314 142.217 143.757 142.217 149.69 142.217 153.19 142.217 168.033 142.217 179.682 142.217 187.324 142.217 199 142.217 0 156.617 12.3594 156.617 19.3594 156.617 27.5078 156.617 35.2939 156.617 43.4313 156.617 51.0738 156.617 55.7359 156.617 63.8732 156.617 72.3156 156.617 78.2492 156.617 86.3865 156.617 93.3865 156.617 98.9168 156.617 105.623 156.617 113.76 156.617 120.466 156.617 128.615 156.617 133.181 156.617 138.711 156.617 145.711 156.617 153.86 156.617 160.074 156.617 166.78 156.617 175.331 156.617 183.469 156.617 191.214 156.617 199 156.617 0 171.017 10.835 171.017 17.835 171.017 25.7441 171.017 29.8184 171.017 38.3701 171.017 49.9053 171.017 60.7949 171.017 65.3613 171.017 69.9277 171.017 76.6338 171.017 84.7822 171.017 92.5273 171.017 100.17 171.017 105.7 171.017 113.343 171.017 121.785 171.017 129.571 171.017 137.72 171.017 140.632 171.017 146.565 171.017 158.606 171.017 166.755 171.017 173.755 171.017 178.321 171.017 186.764 171.017 192.294 171.017 199 171.017 0 185.417 8.41504 185.417 13.9453 185.417 21.5879 185.417 29.374 185.417 34.9043 185.417 41.9043 185.417 54.2637 185.417 66.623 185.417 73.3291 185.417 79.2627 185.417 97.3001 185.417 104.943 185.417 110.473 185.417 128.51 185.417 137.062 185.417 142.592 185.417 149.299 185.417 156.299 185.417 168.658 185.417 186.695 185.417 194.338 185.417 199 185.417 0 199.817 6.70605 199.817 12.6396 199.817 18.8535 199.817 25.8535 199.817 34.2686 199.817 38.3428 199.817 46.4912 199.817 54.2773 199.817 62.2629 199.817 66.8293 199.817 74.4719 199.817 82.4574 199.817 87.0238 199.817 95.1723 199.817 101.878 199.817 109.864 199.817 116.078 199.817 123.72 199.817 132.163 199.817 140.311 199.817 144.878 199.817 150.408 199.817 158.194 199.817 166.179 199.817 170.842 199.817 178.484 199.817 184.014 199.817 192 199.817 199 199.817 0 214.217 12.3594 214.217 20.8018 214.217 27.0156 214.217 35.1641 214.217 40.4863 214.217 48.6348 214.217 55.3408 214.217 62.0469 214.217 70.5986 214.217 77.3047 214.217 85.8564 214.217 91.1787 214.217 96.709 214.217 103.415 214.217 109.349 214.217 113.915 214.217 117.415 214.217 122.737 214.217 129.443 214.217 137.113 214.217 143.819 214.217 151.968 214.217 157.29 214.217 161.364 214.217 166.026 214.217 171.349 214.217 178.991 214.217 187.14 214.217 191.214 214.217 199 214.217 0 228.617 4.66211 228.617 12.3047 228.617 17.835 228.617 27.9355 228.617 34.9355 228.617 45.0361 228.617 49.1104 228.617 53.1846 228.617 57.751 228.617 62.3174 228.617 66.3916 228.617 73.0977 228.617 83.1982 228.617 94.874 228.617 103.022 228.617 107.097 228.617 111.171 228.617 117.877 228.617 124.091 228.617 134.191 228.617 147.269 228.617 153.975 228.617 164.075 228.617 170.289 228.617 177.932 228.617 186.374 228.617 190.448 228.617 199 228.617 0 243.017 8.14844 243.017 15.1484 243.017 22.8184 243.017 29.5244 243.017 43.1934 243.017 50.1934 243.017 63.8623 243.017 67.9365 243.017 72.0107 243.017 76.5771 243.017 81.1436 243.017 85.2178 243.017 91.9238 243.017 105.593 243.017 114.008 243.017 121.008 243.017 125.574 243.017 131.788 243.017 139.937 243.017 153.605 243.017 161.248 243.017 165.91 243.017 179.579 243.017 184.146 243.017 192.294 243.017 199 243.017 0 257.417 6.21387 257.417 13.8564 257.417 22.2988 257.417 30.4473 257.417 35.0137 257.417 40.5439 257.417 48.3301 257.417 54.2637 257.417 58.3379 257.417 66.8896 257.417 73.5957 257.417 81.279 257.417 89.694 257.417 95.2243 257.417 102.224 257.417 108.438 257.417 113.005 257.417 117.079 257.417 123.293 257.417 130.293 257.417 134.367 257.417 138.441 257.417 146.227 257.417 153.91 257.417 161.553 257.417 169.701 257.417 177.385 257.417 185.027 257.417 193.47 257.417 199 257.417 0 271.817 8.55176 271.817 16.1943 271.817 23.8369 271.817 29.3672 271.817 35.3008 271.817 39.8672 271.817 46.5732 271.817 54.9883 271.817 60.9219 271.817 64.4219 271.817 0 286.217 " BOOKMARK="0″ startArrowIndex="0″ TopLine="0″ LOCK="0″ EPROF="" DASHS="" IRENDER="1″ TEXTFLOW="0″ TXTFILLSH="100″ YPOS="39″ ANNOTATION="0″ LOCALX="0″ GRTYP="0″ XPOS="40.11″ NUMCO="16″ POCOOR="0 0 0 0 199 0 199 0 199 0 199 0 199 283 199 283 199 283 199 283 0 283 0 283 0 283 0 283 0 0 0 0 " EXTRA="0″ LOCALY="0″ NEXTPAGE="-1″ NUMDASH="0″ LeftLine="0″ PRFILE="" TEXTRA="0″ SCALETYPE="1″ TXTOUT="1″ TXTFILL="Black" endArrowIndex="0″ BEXTRA="0″ PLINEJOIN="0″ TXTSTP="-0.1″ TXTULW="-0.1″ TXTSCALEV="100″ TXTSTRSH="100″ >
<ITEXT CAB="1″ CCOLOR="Black" CBASE="0″ CSTW="-0.1″ CSIZE="16″ CULP="-0.1″ CH="Turner's Field, Our Future&#x5;" CSHADE2="100″ CKERN="0″ CSCALE="100″ CSHADE="100″ COUT="1″ CSCALEV="100″ CSTP="-0.1″ CULW="-0.1″ CSTYLE="0″ CFONT="Palatino Linotype Regular" CSHX="5″ CSHY="-5″ CSTROKE="Black" />
<ITEXT CAB="0″ CCOLOR="Black" CBASE="0″ CSTW="-0.1″ CSIZE="14″ CULP="-0.1″ CH="&#x5;" CSHADE2="100″ CKERN="0″ CSCALE="100″ CSHADE="100″ COUT="1″ CSCALEV="100″ CSTP="-0.1″ CULW="-0.1″ CSTYLE="0″ CFONT="Palatino Linotype Regular" CSHX="5″ CSHY="-5″ CSTROKE="Black" />
<ITEXT CAB="3″ CCOLOR="Black" CBASE="0″ CSTW="-0.1″ CSIZE="14″ CULP="-0.1″ CH="In the heart of Upper Parkstone lies a field of brambles and possibilities. It was left to us – the people of Poole – and it has been left to go wild.&#x5;&#x5;Wildness restores us. How many of us are entranced by David Attenborough's nature programmes or dream of escaping to the country for a much needed rest, even if only for a little while? We could have a little patch of the countryside practically on our doorsteps. &#x5;" CSHADE2="100″ CKERN="0″ CSCALE="100″ CSHADE="100″ COUT="1″ CSCALEV="100″ CSTP="-0.1″ CULW="-0.1″ CSTYLE="0″ CFONT="Palatino Linotype Regular" CSHX="5″ CSHY="-5″ CSTROKE="Black" />
</ITEM>
<ITEM BottomLine="0″ REXTRA="0″ LANGUAGE="English" NUMPO="16″ PLINEART="1″ TXTSCALE="100″ ALIGN="0″ RightLine="0″ LOCALSCX="1″ LINESP="14.4″ ROT="0″ TXTSHX="5″ TXTSTROKE="Black" WIDTH="199″ BACKPAGE="-1″ GROUPS="" LOCKR="0″ IFONT="Times New Roman Regular" LOCALSCY="1″ NAMEDLST="" TXTSHY="-5″ AUTOTEXT="0″ FLIPPEDV="0″ PCOLOR="None" RADRECT="0″ REVERS="0″ PRINTABLE="1″ RATIO="1″ FLIPPEDH="0″ COLGAP="14.4″ PCOLOR2="None" NEXTITEM="-1″ NUMGROUP="0″ TransValue="0″ PLINEEND="0″ TXTSTW="-0.1″ FRTYPE="0″ PTYPE="4″ isTableItem="0″ TEXTFLOW2="0″ SHADE2="100″ TXTBASE="0″ PWIDTH="1″ HEIGHT="104.5″ DASHOFF="0″ PFILE2="" PFILE="" TEXTFLOW3="0″ ISIZE="12″ PLTSHOW="0″ LINESPMode="0″ TXTSTYLE="0″ CLIPEDIT="0″ BACKITEM="-1″ TransValueS="0″ EMBEDDED="1″ PFILE3="" ANNAME="" SHADE="100″ TXTULP="-0.1″ NUMTEXT="175″ fillRule="1″ COCOOR="0 0 0 0 199 0 199 0 199 0 199 0 199 104.5 199 104.5 199 104.5 199 104.5 0 104.5 0 104.5 0 104.5 0 104.5 0 0 0 0 " BASEOF="0″ PICART="1″ TXTKERN="0″ COLUMNS="1″ TEXTCOOR="0 11.1309 6.70605 11.1309 13.7061 11.1309 18.2725 11.1309 27.985 11.1309 32.5514 11.1309 39.5514 11.1309 47.3376 11.1309 54.0436 11.1309 59.9772 11.1309 69.6898 11.1309 76.6898 11.1309 86.4023 11.1309 90.4766 11.1309 98.1191 11.1309 102.686 11.1309 112.398 11.1309 120.041 11.1309 124.703 11.1309 134.415 11.1309 141.121 11.1309 149.27 11.1309 155.976 11.1309 161.506 11.1309 169.292 11.1309 177.078 11.1309 186.791 11.1309 191.357 11.1309 199 11.1309 0 25.5309 8.41504 25.5309 13.9453 25.5309 21.5879 25.5309 30.1396 25.5309 38.582 25.5309 44.7959 25.5309 51.502 25.5309 55.002 25.5309 89.6973 25.5309 98.1123 25.5309 105.112 25.5309 111.326 25.5309 119.112 25.5309 126.112 25.5309 133.898 25.5309 140.604 25.5309 175.3 25.5309 182.3 25.5309 190.448 25.5309 199 25.5309 0 39.9309 8.55176 39.9309 12.626 39.9309 18.5596 39.9309 23.126 39.9309 28.6562 39.9309 32.7305 39.9309 40.4756 39.9309 48.918 39.9309 53.4844 39.9309 60.1904 39.9309 63.6904 39.9309 79.8161 39.9309 90.7057 39.9309 96.6393 39.9309 113.271 39.9309 120.913 39.9309 124.988 39.9309 129.062 39.9309 145.693 39.9309 153.438 39.9309 160.145 39.9309 166.358 39.9309 174.001 39.9309 186.36 39.9309 193.066 39.9309 199 39.9309 0 54.3309 12.3594 54.3309 20.002 54.3309 25.5322 54.3309 32.2383 54.3309 38.8586 54.3309 44.7922 54.3309 51.0061 54.3309 58.0061 54.3309 63.5364 54.3309 69.7502 54.3309 76.4563 54.3309 79.9563 54.3309 86.5767 54.3309 91.2388 54.3309 98.8813 54.3309 106.524 54.3309 115.076 54.3309 121.696 54.3309 125.77 54.3309 131.704 54.3309 138.324 54.3309 146.069 54.3309 152.775 54.3309 158.989 54.3309 166.632 54.3309 178.991 54.3309 183.065 54.3309 191.214 54.3309 199 54.3309 0 68.7309 12.3594 68.7309 20.002 68.7309 25.5322 68.7309 32.2383 68.7309 47.4844 68.7309 54.4844 68.7309 62.6328 68.7309 71.1846 68.7309 86.4307 68.7309 98.79 68.7309 106.433 68.7309 111.963 68.7309 118.669 68.7309 133.915 68.7309 140.621 68.7309 147.847 68.7309 156.262 68.7309 162.968 68.7309 171.116 68.7309 177.05 68.7309 181.124 68.7309 188.794 68.7309 195.5 68.7309 199 68.7309 0 83.1309 10.6846 83.1309 16.2148 83.1309 23.8574 83.1309 35.5332 83.1309 43.6816 83.1309 52.3357 83.1309 56.4099 83.1309 64.0525 83.1309 70.2664 83.1309 77.2664 83.1309 81.3406 83.1309 85.4148 83.1309 91.6628 83.1309 95.1628 83.1309 103.817 83.1309 108.479 83.1309 116.122 83.1309 123.764 83.1309 132.316 83.1309 140.97 83.1309 147.184 83.1309 154.826 83.1309 163.269 83.1309 167.343 83.1309 175.895 83.1309 184.549 83.1309 192.294 83.1309 199 83.1309 0 97.5309 4.66211 97.5309 10.1924 97.5309 16.8984 97.5309 23.6045 97.5309 27.1045 97.5309 31.7666 97.5309 39.4092 97.5309 44.9395 97.5309 48.4395 97.5309 55.4395 97.5309 59.5137 97.5309 63.5879 97.5309 0 111.931 " BOOKMARK="0″ startArrowIndex="0″ TopLine="0″ LOCK="0″ EPROF="" DASHS="" IRENDER="1″ TEXTFLOW="0″ TXTFILLSH="100″ YPOS="39.5″ ANNOTATION="0″ LOCALX="0″ GRTYP="0″ XPOS="320.11″ NUMCO="16″ POCOOR="0 0 0 0 199 0 199 0 199 0 199 0 199 104.5 199 104.5 199 104.5 199 104.5 0 104.5 0 104.5 0 104.5 0 104.5 0 0 0 0 " EXTRA="0″ LOCALY="0″ NEXTPAGE="-1″ NUMDASH="0″ LeftLine="0″ PRFILE="" TEXTRA="0″ SCALETYPE="1″ TXTOUT="1″ TXTFILL="Black" endArrowIndex="0″ BEXTRA="0″ PLINEJOIN="0″ TXTSTP="-0.1″ TXTULW="-0.1″ TXTSCALEV="100″ TXTSTRSH="100″ >
<ITEXT CAB="3″ CCOLOR="Black" CBASE="0″ CSTW="-0.1″ CSIZE="14″ CULP="-0.1″ CH="eat takes a lot of energy to produce, package and distribute. As oil becomes more scarce, food is becoming more and more expensive. Grown locally, food could be free for all.&#x5;" CSHADE2="100″ CKERN="0″ CSCALE="100″ CSHADE="100″ COUT="1″ CSCALEV="100″ CSTP="-0.1″ CULW="-0.1″ CSTYLE="0″ CFONT="Palatino Linotype Regular" CSHX="5″ CSHY="-5″ CSTROKE="Black" />
</ITEM>
<ITEM BottomLine="0″ REXTRA="0″ LANGUAGE="English" NUMPO="16″ PLINEART="1″ TXTSCALE="100″ ALIGN="0″ RightLine="0″ LOCALSCX="0.4″ LINESP="14.4″ ROT="0″ TXTSHX="5″ TXTSTROKE="Black" WIDTH="199″ BACKPAGE="-1″ GROUPS="" LOCKR="0″ IFONT="Times New Roman Regular" LOCALSCY="0.4″ NAMEDLST="" TXTSHY="-5″ AUTOTEXT="0″ FLIPPEDV="0″ PCOLOR="None" RADRECT="0″ REVERS="0″ PRINTABLE="1″ RATIO="1″ FLIPPEDH="0″ COLGAP="14.4″ PCOLOR2="None" NEXTITEM="-1″ NUMGROUP="0″ TransValue="0″ PLINEEND="0″ TXTSTW="-0.1″ FRTYPE="0″ PTYPE="2″ isTableItem="0″ TEXTFLOW2="0″ SHADE2="100″ TXTBASE="0″ PWIDTH="1″ HEIGHT="151″ DASHOFF="0″ PFILE2="" PFILE="My Documents/Transition/Turner's Field/mistypondcr8.jpg" TEXTFLOW3="0″ ISIZE="12″ PLTSHOW="0″ LINESPMode="0″ TXTSTYLE="0″ CLIPEDIT="0″ BACKITEM="-1″ TransValueS="0″ EMBEDDED="0″ PFILE3="" ANNAME="" SHADE="100″ TXTULP="-0.1″ NUMTEXT="0″ fillRule="1″ COCOOR="0 0 0 0 199 0 199 0 199 0 199 0 199 151 199 151 199 151 199 151 0 151 0 151 0 151 0 151 0 0 0 0 " BASEOF="0″ PICART="1″ TXTKERN="0″ COLUMNS="1″ TEXTCOOR="" BOOKMARK="0″ startArrowIndex="0″ TopLine="0″ LOCK="0″ EPROF="" DASHS="" IRENDER="1″ TEXTFLOW="0″ TXTFILLSH="100″ YPOS="332″ ANNOTATION="0″ LOCALX="0″ GRTYP="0″ XPOS="39.11″ NUMCO="16″ POCOOR="0 0 0 0 199 0 199 0 199 0 199 0 199 151 199 151 199 151 199 151 0 151 0 151 0 151 0 151 0 0 0 0 " EXTRA="0″ LOCALY="0″ NEXTPAGE="-1″ NUMDASH="0″ LeftLine="0″ PRFILE="" TEXTRA="0″ SCALETYPE="1″ TXTOUT="1″ TXTFILL="Black" endArrowIndex="0″ BEXTRA="0″ PLINEJOIN="0″ TXTSTP="-0.1″ TXTULW="-0.1″ TXTSCALEV="100″ TXTSTRSH="100″ />
<ITEM BottomLine="0″ REXTRA="0″ LANGUAGE="English" NUMPO="16″ PLINEART="1″ TXTSCALE="100″ ALIGN="0″ RightLine="0″ LOCALSCX="1″ LINESP="14.4″ ROT="0″ TXTSHX="5″ TXTSTROKE="Black" WIDTH="199″ BACKPAGE="-1″ GROUPS="" LOCKR="0″ IFONT="Times New Roman Regular" LOCALSCY="1″ NAMEDLST="" TXTSHY="-5″ AUTOTEXT="0″ FLIPPEDV="0″ PCOLOR="None" RADRECT="0″ REVERS="0″ PRINTABLE="1″ RATIO="1″ FLIPPEDH="0″ COLGAP="14.4″ PCOLOR2="None" NEXTITEM="-1″ NUMGROUP="0″ TransValue="0″ PLINEEND="0″ TXTSTW="-0.1″ FRTYPE="0″ PTYPE="4″ isTableItem="0″ TEXTFLOW2="0″ SHADE2="100″ TXTBASE="0″ PWIDTH="1″ HEIGHT="59″ DASHOFF="0″ PFILE2="" PFILE="" TEXTFLOW3="0″ ISIZE="12″ PLTSHOW="0″ LINESPMode="0″ TXTSTYLE="0″ CLIPEDIT="0″ BACKITEM="-1″ TransValueS="0″ EMBEDDED="1″ PFILE3="" ANNAME="" SHADE="100″ TXTULP="-0.1″ NUMTEXT="107″ fillRule="1″ COCOOR="0 0 0 0 199 0 199 0 199 0 199 0 199 59 199 59 199 59 199 59 0 59 0 59 0 59 0 59 0 0 0 0 " BASEOF="0″ PICART="1″ TXTKERN="0″ COLUMNS="1″ TEXTCOOR="0 11.1309 13.0771 11.1309 19.7832 11.1309 25.3146 11.1309 32.3146 11.1309 36.3889 11.1309 42.3225 11.1309 49.965 11.1309 55.4965 11.1309 63.6449 11.1309 70.351 11.1309 77.057 11.1309 85.6088 11.1309 91.1402 11.1309 98.9264 11.1309 106.569 11.1309 114.212 11.1309 122.763 11.1309 128.295 11.1309 132.957 11.1309 140.599 11.1309 148.242 11.1309 156.794 11.1309 160.294 11.1309 165.825 11.1309 171.355 11.1309 178.998 11.1309 186.641 11.1309 199 11.1309 0 25.5309 4.56641 25.5309 12.209 25.5309 34.511 25.5309 42.926 25.5309 47.0002 25.5309 54.0002 25.5309 61.7864 25.5309 84.0884 25.5309 91.0884 25.5309 99.2368 25.5309 107.789 25.5309 130.091 25.5309 137.091 25.5309 159.393 25.5309 165.326 25.5309 169.893 25.5309 175.423 25.5309 183.065 25.5309 191.214 25.5309 199 25.5309 0 39.9309 6.21387 39.9309 13.8564 39.9309 26.2158 39.9309 38.5752 39.9309 47.0176 39.9309 55.166 39.9309 59.2402 39.9309 63.8066 39.9309 71.5928 39.9309 78.9098 39.9309 83.4762 39.9309 91.1188 39.9309 98.4357 39.9309 106.181 39.9309 112.887 39.9309 120.204 39.9309 131.64 39.9309 138.346 39.9309 142.421 39.9309 146.495 39.9309 149.995 39.9309 156.806 39.9309 167.696 39.9309 172.262 39.9309 179.579 39.9309 184.146 39.9309 192.294 39.9309 199 39.9309 0 54.3309 12.3594 54.3309 20.002 54.3309 32.3613 54.3309 39.0674 54.3309 47.2158 54.3309 51.7822 54.3309 55.2822 54.3309 60.3133 54.3309 72.6727 54.3309 81.1151 54.3309 87.3289 54.3309 95.4774 54.3309 100.508 54.3309 108.151 54.3309 112.813 54.3309 117.844 54.3309 122.411 54.3309 130.559 54.3309 137.265 54.3309 142.296 54.3309 146.958 54.3309 154.601 54.3309 162.243 54.3309 170.795 54.3309 175.826 54.3309 187.263 54.3309 193.969 54.3309 " BOOKMARK="0″ startArrowIndex="0″ TopLine="0″ LOCK="0″ EPROF="" DASHS="" IRENDER="1″ TEXTFLOW="0″ TXTFILLSH="100″ YPOS="498″ ANNOTATION="0″ LOCALX="0″ GRTYP="0″ XPOS="41.11″ NUMCO="16″ POCOOR="0 0 0 0 199 0 199 0 199 0 199 0 199 59 199 59 199 59 199 59 0 59 0 59 0 59 0 59 0 0 0 0 " EXTRA="0″ LOCALY="0″ NEXTPAGE="-1″ NUMDASH="0″ LeftLine="0″ PRFILE="" TEXTRA="0″ SCALETYPE="1″ TXTOUT="1″ TXTFILL="Black" endArrowIndex="0″ BEXTRA="0″ PLINEJOIN="0″ TXTSTP="-0.1″ TXTULW="-0.1″ TXTSCALEV="100″ TXTSTRSH="100″ >
<ITEXT CAB="4″ CCOLOR="Black" CBASE="0″ CSTW="-0.1″ CSIZE="14″ CULP="-0.1″ CH="We also need good food, room to play and a strong community to be well. At the moment, much of the food we " CSHADE2="100″ CKERN="0″ CSCALE="100″ CSHADE="100″ COUT="1″ CSCALEV="100″ CSTP="-0.1″ CULW="-0.1″ CSTYLE="0″ CFONT="Palatino Linotype Regular" CSHX="5″ CSHY="-5″ CSTROKE="Black" />
</ITEM>
<ITEM BottomLine="0″ REXTRA="0″ LANGUAGE="English" NUMPO="16″ PLINEART="1″ TXTSCALE="100″ ALIGN="0″ RightLine="0″ LOCALSCX="1″ LINESP="14.4″ ROT="0″ TXTSHX="5″ TXTSTROKE="Black" WIDTH="199″ BACKPAGE="-1″ GROUPS="" LOCKR="0″ IFONT="Times New Roman Regular" LOCALSCY="1″ NAMEDLST="" TXTSHY="-5″ AUTOTEXT="0″ FLIPPEDV="0″ PCOLOR="None" RADRECT="0″ REVERS="0″ PRINTABLE="1″ RATIO="1″ FLIPPEDH="0″ COLGAP="14.4″ PCOLOR2="None" NEXTITEM="-1″ NUMGROUP="0″ TransValue="0″ PLINEEND="0″ TXTSTW="-0.1″ FRTYPE="0″ PTYPE="4″ isTableItem="0″ TEXTFLOW2="0″ SHADE2="100″ TXTBASE="0″ PWIDTH="1″ HEIGHT="213″ DASHOFF="0″ PFILE2="" PFILE="" TEXTFLOW3="0″ ISIZE="12″ PLTSHOW="0″ LINESPMode="0″ TXTSTYLE="0″ CLIPEDIT="0″ BACKITEM="-1″ TransValueS="0″ EMBEDDED="1″ PFILE3="" ANNAME="" SHADE="100″ TXTULP="-0.1″ NUMTEXT="369″ fillRule="1″ COCOOR="0 0 0 0 199 0 199 0 199 0 199 0 199 213 199 213 199 213 199 213 0 213 0 213 0 213 0 213 0 0 0 0 " BASEOF="0″ PICART="1″ TXTKERN="0″ COLUMNS="1″ TEXTCOOR="0 11.124 7.58789 11.124 16.0303 11.124 21.5605 11.124 29.709 11.124 36.415 11.124 41.9453 11.124 44.8574 11.124 50.791 11.124 60.1742 11.124 67.9603 11.124 72.0345 11.124 78.7406 11.124 82.8148 11.124 91.3665 11.124 100.75 11.124 106.964 11.124 114.606 11.124 123.049 11.124 127.123 11.124 135.674 11.124 145.058 11.124 151.271 11.124 158.914 11.124 167.062 11.124 171.629 11.124 175.703 11.124 183.852 11.124 192.294 11.124 199 11.124 0 25.524 4.56641 25.524 12.209 25.524 17.0213 25.524 24.7664 25.524 31.4725 25.524 36.2848 25.524 43.2848 25.524 48.0971 25.524 55.8422 25.524 62.5482 25.524 69.5482 25.524 77.9906 25.524 82.557 25.524 86.6312 25.524 91.2934 25.524 99.7357 25.524 103.81 25.524 108.622 25.524 120.298 25.524 124.372 25.524 128.446 25.524 136.998 25.524 141.072 25.524 145.147 25.524 149.809 25.524 156.515 25.524 161.327 25.524 169.476 25.524 176.476 25.524 184.146 25.524 190.852 25.524 199 25.524 0 39.924 7 39.924 15.1484 39.924 23.7002 39.924 35.5176 39.924 42.5176 39.924 54.335 39.924 62.0801 39.924 69.7227 39.924 78.165 39.924 86.3135 39.924 90.8799 39.924 94.9541 39.924 99.6162 39.924 108.059 39.924 112.133 39.924 123.95 39.924 130.95 39.924 139.099 39.924 147.65 39.924 159.468 39.924 165.401 39.924 172.107 39.924 178.321 39.924 186.764 39.924 192.294 39.924 199 39.924 0 54.324 5.93359 54.324 13.5762 54.324 22.0186 54.324 27.5488 54.324 33.7627 54.324 40.4688 54.324 48.3572 54.324 55.9998 54.324 60.6619 54.324 68.5504 54.324 73.2125 54.324 78.7428 54.324 85.4488 54.324 91.3824 54.324 99.5309 54.324 107.419 54.324 114.419 54.324 122.568 54.324 131.12 54.324 139.008 54.324 143.67 54.324 149.2 54.324 155.906 54.324 162.613 54.324 170.501 54.324 175.163 54.324 182.806 54.324 190.448 54.324 199 54.324 0 68.724 4.66211 68.724 12.3047 68.724 17.835 68.724 39.561 68.724 48.0034 68.724 53.937 68.724 75.6631 68.724 82.6631 68.724 90.8115 68.724 99.3633 68.724 121.089 68.724 125.751 68.724 133.394 68.724 138.924 68.724 160.65 68.724 165.312 68.724 173.755 68.724 178.321 68.724 186.764 68.724 192.294 68.724 199 68.724 0 83.124 7.78613 83.124 14.4922 83.124 22.6406 83.124 29.3467 83.124 34.877 83.124 41.877 83.124 46.4434 83.124 50.5176 83.124 58.1602 83.124 66.3086 83.124 72.2422 83.124 75.7422 83.124 83.3848 83.124 88.0469 83.124 91.5469 83.124 99.5586 83.124 107.201 83.124 114.844 83.124 118.918 83.124 125.624 83.124 129.124 83.124 134.654 83.124 141.36 83.124 147.294 83.124 151.368 83.124 159.92 83.124 166.626 83.124 174.774 83.124 179.341 83.124 185.274 83.124 0 97.524 0 111.924 0 111.924 4.7168 111.924 15.7617 111.924 21.9756 111.924 28.9756 111.924 37.124 111.924 48.1689 111.924 52.2432 111.924 64.6025 111.924 71.6025 111.924 79.3887 111.924 83.4629 111.924 91.6113 111.924 98.3174 111.924 109.362 111.924 116.362 111.924 127.407 111.924 133.621 111.924 141.264 111.924 153.623 111.924 165.982 111.924 174.425 111.924 182.573 111.924 186.647 111.924 191.214 111.924 199 111.924 0 126.324 7.64258 126.324 13.1729 126.324 19.3867 126.324 27.5352 126.324 34.5352 126.324 40.0654 126.324 48.6172 126.324 61.0635 126.324 72.7393 126.324 76.8135 126.324 81.3799 126.324 89.5283 126.324 101.975 126.324 106.637 126.324 112.167 126.324 120.609 126.324 124.684 126.324 129.25 126.324 141.696 126.324 148.696 126.324 156.845 126.324 165.396 126.324 177.843 126.324 185.991 126.324 194.434 126.324 199 126.324 0 140.724 4.56641 140.724 10.0967 140.724 16.8027 140.724 23.5088 140.724 29.4424 140.724 32.9424 140.724 53.0397 140.724 65.3991 140.724 72.1051 140.724 80.6569 140.724 84.7311 140.724 90.945 140.724 95.0192 140.724 103.168 140.724 110.168 140.724 114.242 140.724 134.339 140.724 142.488 140.724 149.194 140.724 154.724 140.724 162.469 140.724 168.403 140.724 171.903 140.724 192 140.724 199 140.724 0 155.124 11.6758 155.124 15.75 155.124 19.8242 155.124 28.376 155.124 32.4502 155.124 36.5244 155.124 41.1865 155.124 47.8926 155.124 71.0317 155.124 79.4468 155.124 87.0894 155.124 95.2378 155.124 103.79 155.124 107.29 155.124 130.429 155.124 137.429 155.124 141.503 155.124 145.577 155.124 153.22 155.124 157.786 155.124 170.146 155.124 176.852 155.124 185 155.124 189.566 155.124 195.5 155.124 199 155.124 0 169.524 6.21387 169.524 13.8564 169.524 26.2158 169.524 38.5752 169.524 47.0176 169.524 55.166 169.524 59.2402 169.524 63.8066 169.524 71.5928 169.524 79.2383 169.524 86.9082 169.524 93.6143 169.524 101.4 169.524 108.106 169.524 112.673 169.524 119.673 169.524 127.418 169.524 131.492 169.524 138.198 169.524 145.844 169.524 153.63 169.524 160.63 169.524 166.16 169.524 174.712 169.524 181.418 169.524 189.566 169.524 195.5 169.524 199 169.524 0 183.924 5.93359 183.924 14.3486 183.924 21.3486 183.924 27.5625 183.924 34.2686 183.924 40.2021 183.924 46.3762 183.924 50.9426 183.924 58.5852 183.924 64.7592 183.924 70.2895 183.924 76.9955 183.924 82.9291 183.924 87.4955 183.924 93.6695 183.924 100.67 183.924 108.818 183.924 117.37 183.924 123.544 183.924 128.206 183.924 135.848 183.924 141.379 183.924 147.553 183.924 153.767 183.924 161.915 183.924 165.989 183.924 170.063 183.924 178.615 183.924 184.146 183.924 190.852 183.924 199 183.924 0 198.324 4.56641 198.324 12.209 198.324 24.9731 198.324 29.0474 198.324 35.7534 198.324 42.7534 198.324 48.2837 198.324 56.4321 198.324 59.9321 198.324 72.6963 198.324 81.1113 198.324 85.1855 198.324 92.1855 198.324 99.9717 198.324 112.736 198.324 119.736 198.324 127.884 198.324 136.436 198.324 149.2 198.324 155.906 198.324 163.132 198.324 171.547 198.324 175.621 198.324 183.264 198.324 188.794 198.324 195.5 198.324 " BOOKMARK="0″ startArrowIndex="0″ TopLine="0″ LOCK="0″ EPROF="" DASHS="" IRENDER="1″ TEXTFLOW="0″ TXTFILLSH="100″ YPOS="340″ ANNOTATION="0″ LOCALX="0″ GRTYP="0″ XPOS="318.11″ NUMCO="16″ POCOOR="0 0 0 0 199 0 199 0 199 0 199 0 199 213 199 213 199 213 199 213 0 213 0 213 0 213 0 213 0 0 0 0 " EXTRA="0″ LOCALY="0″ NEXTPAGE="-1″ NUMDASH="0″ LeftLine="0″ PRFILE="" TEXTRA="0″ SCALETYPE="1″ TXTOUT="1″ TXTFILL="Black" endArrowIndex="0″ BEXTRA="0″ PLINEJOIN="0″ TXTSTP="-0.1″ TXTULW="-0.1″ TXTSCALEV="100″ TXTSTRSH="100″ >
<ITEXT CAB="3″ CCOLOR="Black" CBASE="0″ CSTW="-0.1″ CSIZE="14″ CULP="-0.1″ CH="Turner's Field could continue to be a beautiful wildlife haven and a bountiful and secure source of fresh and free food for us and for future generations of Poole residents.&#x5;" CSHADE2="100″ CKERN="0″ CSCALE="100″ CSHADE="100″ COUT="1″ CSCALEV="100″ CSTP="-0.1″ CULW="-0.1″ CSTYLE="0″ CFONT="Palatino Linotype Regular" CSHX="5″ CSHY="-5″ CSTROKE="Black" />
<ITEXT CAB="4″ CCOLOR="Black" CBASE="0″ CSTW="-0.1″ CSIZE="14″ CULP="-0.1″ CH="&#x5;I can imagine a community orchard with fruit and nut trees, medicinal herbs, a wildlife pond, allotments, community vegetable gardens, spaces to rest and for children to learn, play and explore." CSHADE2="100″ CKERN="0″ CSCALE="100″ CSHADE="100″ COUT="1″ CSCALEV="100″ CSTP="-0.1″ CULW="-0.1″ CSTYLE="0″ CFONT="Palatino Linotype Regular" CSHX="5″ CSHY="-5″ CSTROKE="Black" />
</ITEM>
<ITEM BottomLine="0″ REXTRA="0″ LANGUAGE="English" NUMPO="16″ PLINEART="1″ TXTSCALE="100″ ALIGN="0″ RightLine="0″ LOCALSCX="1″ LINESP="14.4″ ROT="0″ TXTSHX="5″ TXTSTROKE="Black" WIDTH="199″ BACKPAGE="-1″ GROUPS="" LOCKR="0″ IFONT="Times New Roman Regular" LOCALSCY="1″ NAMEDLST="" TXTSHY="-5″ AUTOTEXT="0″ FLIPPEDV="0″ PCOLOR="None" RADRECT="0″ REVERS="0″ PRINTABLE="1″ RATIO="1″ FLIPPEDH="0″ COLGAP="14.4″ PCOLOR2="None" NEXTITEM="-1″ NUMGROUP="0″ TransValue="0″ PLINEEND="0″ TXTSTW="-0.1″ FRTYPE="0″ PTYPE="4″ isTableItem="0″ TEXTFLOW2="0″ SHADE2="100″ TXTBASE="0″ PWIDTH="1″ HEIGHT="269″ DASHOFF="0″ PFILE2="" PFILE="" TEXTFLOW3="0″ ISIZE="12″ PLTSHOW="0″ LINESPMode="0″ TXTSTYLE="0″ CLIPEDIT="0″ BACKITEM="-1″ TransValueS="0″ EMBEDDED="1″ PFILE3="" ANNAME="" SHADE="100″ TXTULP="-0.1″ NUMTEXT="410″ fillRule="1″ COCOOR="0 0 0 0 199 0 199 0 199 0 199 0 199 269 199 269 199 269 199 269 0 269 0 269 0 269 0 269 0 0 0 0 " BASEOF="0″ PICART="1″ TXTKERN="0″ COLUMNS="1″ TEXTCOOR="0 11.7734 12.6533 11.7734 18.5869 11.7734 27.442 11.7734 33.3756 11.7734 40.8609 11.7734 48.3463 11.7734 52.2154 11.7734 59.441 11.7734 68.2961 11.7734 74.0998 11.7734 80.635 11.7734 86.5686 11.7734 94.3137 11.7734 103.169 11.7734 114.783 11.7734 120.717 11.7734 128.243 11.7734 134.177 11.7734 143.032 11.7734 147.94 11.7734 155.425 11.7734 161.359 11.7734 167.292 11.7734 173.226 11.7734 182.081 11.7734 186.094 11.7734 193.579 11.7734 199 11.7734 0 26.1734 4.9082 26.1734 12.3936 26.1734 18.3271 26.1734 22.1963 26.1734 28.1299 26.1734 31.999 26.1734 46.958 26.1734 53.2949 26.1734 59.2285 26.1734 63.8223 26.1734 71.5674 26.1734 77.501 26.1734 83.0244 26.1734 86.8936 26.1734 94.6387 26.1734 101.092 26.1734 106 26.1734 120.959 26.1734 126.893 26.1734 134.638 26.1734 141.863 26.1734 156.822 26.1734 161.73 26.1734 169.476 26.1734 175.409 26.1734 180.933 26.1734 184.802 26.1734 192.547 26.1734 199 26.1734 0 40.5734 4.9082 40.5734 12.6533 40.5734 16.5225 40.5734 20.3916 40.5734 24.2607 40.5734 29.1689 40.5734 32.7852 40.5734 39.8438 40.5734 49.3936 40.5734 57.1387 40.5734 63.0723 40.5734 70.1309 40.5734 74.6084 40.5734 78.4775 40.5734 84.4111 40.5734 88.2803 40.5734 95.5059 40.5734 102.564 40.5734 108.498 40.5734 115.983 40.5734 123.469 40.5734 127.338 40.5734 134.563 40.5734 141.622 40.5734 149.107 40.5734 155.041 40.5734 160.975 40.5734 168.46 40.5734 180.074 40.5734 186.008 40.5734 193.066 40.5734 199 40.5734 0 54.9734 7.74512 54.9734 13.5078 54.9734 24.0898 54.9734 36.2473 54.9734 42.1809 54.9734 48.1145 54.9734 55.8596 54.9734 60.5081 54.9734 65.7034 54.9734 71.637 54.9734 83.7944 54.9734 87.8071 54.9734 95.2925 54.9734 100.713 54.9734 112.871 54.9734 118.066 54.9734 123.87 54.9734 130.843 54.9734 134.712 54.9734 141.684 54.9734 145.553 54.9734 153.299 54.9734 159.752 54.9734 171.909 54.9734 175.778 54.9734 183.264 54.9734 189.197 54.9734 195.131 54.9734 199 54.9734 0 69.3734 5.93359 69.3734 13.4189 69.3734 25.0332 69.3734 36.6475 69.3734 44.1328 69.3734 51.8779 69.3734 55.7471 69.3734 60.3955 69.3734 66.8076 69.3734 70.4238 69.3734 91.0439 69.3734 98.5293 69.3734 104.053 69.3734 107.922 69.3734 115.667 69.3734 122.12 69.3734 125.989 69.3734 133.734 69.3734 140.188 69.3734 160.808 69.3734 168.293 69.3734 174.227 69.3734 181.712 69.3734 189.197 69.3734 193.066 69.3734 199 69.3734 0 83.7734 4.42285 83.7734 11.9082 83.7734 18.1631 83.7734 24.1172 83.7734 28.7109 83.7734 36.4561 83.7734 42.3896 83.7734 47.8105 83.7734 60.1167 83.7734 64.5396 83.7734 72.0249 83.7734 84.3311 83.7734 90.832 83.7734 95.9727 83.7734 102.973 83.7734 113.555 83.7734 125.861 83.7734 129.874 83.7734 137.359 83.7734 144.844 83.7734 152.07 83.7734 155.686 83.7734 167.992 83.7734 179.606 83.7734 185.54 83.7734 193.066 83.7734 199 83.7734 0 98.1734 4.38867 98.1734 9.91211 98.1734 13.7812 98.1734 19.7148 98.1734 27.46 98.1734 34.6855 98.1734 39.5938 98.1734 43.21 98.1734 57.9713 98.1734 63.9049 98.1734 71.65 98.1734 78.8756 98.1734 93.6369 98.1734 98.0598 98.1734 105.545 98.1734 120.306 98.1734 127.792 98.1734 133.725 98.1734 148.487 98.1734 155.972 98.1734 161.906 98.1734 167.716 98.1734 172.365 98.1734 187.126 98.1734 194.611 98.1734 199 98.1734 0 112.573 4.9082 112.573 12.3936 112.573 24.0078 112.573 29.9619 112.573 34.5557 112.573 42.3008 112.573 46.1699 112.573 53.915 112.573 60.3682 112.573 63.9844 112.573 0 126.973 0 141.373 0 141.373 8.51758 141.373 14.4512 141.373 20.3848 141.373 26.3184 141.373 33.8037 141.373 38.7119 141.373 44.6455 141.373 50.1005 141.373 53.9696 141.373 58.618 141.373 64.073 141.373 74.2654 141.373 80.199 141.373 85.1072 141.373 90.5621 141.373 94.4313 141.373 100.365 141.373 105.095 141.373 109.744 141.373 115.199 141.373 119.622 141.373 127.107 141.373 132.562 141.373 138.495 141.373 142.365 141.373 146.234 141.373 151.689 141.373 159.174 141.373 163.563 141.373 169.018 141.373 176.503 141.373 181.411 141.373 185.027 141.373 190.482 141.373 194.352 141.373 199 141.373 0 155.773 5.93359 155.773 11.8672 155.773 19.6123 155.773 23.4814 155.773 28.1299 155.773 33.4344 155.773 40.9198 155.773 46.8534 155.773 52.1579 155.773 59.6432 155.773 67.1286 155.773 70.9977 155.773 74.8669 155.773 79.5153 155.773 84.8198 155.773 92.3052 155.773 100.05 155.773 105.355 155.773 111.288 155.773 119.034 155.773 126.259 155.773 131.564 155.773 136.212 155.773 143.697 155.773 149.269 155.773 157.014 155.773 162.947 155.773 170.173 155.773 175.478 155.773 179.347 155.773 187.092 155.773 191.515 155.773 199 155.773 0 170.173 7.48535 170.173 13.0088 170.173 16.8779 170.173 23.4814 170.173 29.415 170.173 33.9336 170.173 39.8672 170.173 45.6625 170.173 53.4076 170.173 60.893 170.173 72.5072 170.173 78.4408 170.173 83.349 170.173 86.9652 170.173 92.7605 170.173 97.409 170.173 105.154 170.173 110.213 170.173 114.731 170.173 120.665 170.173 126.598 170.173 133.824 170.173 137.44 170.173 143.236 170.173 147.105 170.173 151.753 170.173 155.622 170.173 160.53 170.173 166.326 170.173 173.811 170.173 181.296 170.173 187.092 170.173 191.515 170.173 199 170.173 0 184.573 7.48535 184.573 12.3936 184.573 16.0098 184.573 20.4326 184.573 27.918 184.573 31.5342 184.573 38.7598 184.573 44.6934 184.573 50.627 184.573 54.4961 184.573 61.7217 184.573 67.6553 184.573 71.2715 184.573 75.1406 184.573 79.7891 184.573 84.6973 184.573 88.3135 184.573 92.7021 184.573 100.188 184.573 104.836 184.573 112.321 184.573 117.517 184.573 123.45 184.573 127.066 184.573 133 184.573 140.745 184.573 147.971 184.573 151.587 184.573 159.072 184.573 166.558 184.573 172.013 184.573 176.921 184.573 180.537 184.573 0 198.973 0 213.373 0 213.373 13.6787 213.373 21.4238 213.373 27.3574 213.373 32.0059 213.373 39.074 213.373 46.8191 213.373 50.6883 213.373 58.4334 213.373 65.659 213.373 72.7271 213.373 80.2125 213.373 84.6012 213.373 91.6693 213.373 96.058 213.373 103.543 213.373 108.192 213.373 115.677 213.373 120.872 213.373 126.806 213.373 133.874 213.373 143.923 213.373 151.408 213.373 158.894 213.373 162.763 213.373 169.988 213.373 177.057 213.373 184.029 213.373 191.515 213.373 199 213.373 0 227.773 3.86914 227.773 7.73828 227.773 15.2646 227.773 21.1982 227.773 24.8145 227.773 29.2373 227.773 36.7227 227.773 40.3389 227.773 48.084 227.773 54.0176 227.773 57.8867 227.773 65.3721 227.773 68.9883 227.773 74.9219 227.773 80.1172 227.773 86.0508 227.773 91.9844 227.773 96.5029 227.773 102.437 227.773 0 242.173 " BOOKMARK="0″ startArrowIndex="0″ TopLine="0″ LOCK="0″ EPROF="" DASHS="" IRENDER="1″ TEXTFLOW="0″ TXTFILLSH="100″ YPOS="190″ ANNOTATION="0″ LOCALX="0″ GRTYP="0″ XPOS="599.11″ NUMCO="16″ POCOOR="0 0 0 0 199 0 199 0 199 0 199 0 199 269 199 269 199 269 199 269 0 269 0 269 0 269 0 269 0 0 0 0 " EXTRA="0″ LOCALY="0″ NEXTPAGE="-1″ NUMDASH="0″ LeftLine="0″ PRFILE="" TEXTRA="0″ SCALETYPE="1″ TXTOUT="1″ TXTFILL="Black" endArrowIndex="0″ BEXTRA="0″ PLINEJOIN="0″ TXTSTP="-0.1″ TXTULW="-0.1″ TXTSCALEV="100″ TXTSTRSH="100″ >
<ITEXT CAB="3″ CCOLOR="Black" CBASE="0″ CSTW="-0.1″ CSIZE="14″ CULP="-0.1″ CH="We could even make space for social gatherings and sharing skills. The field could become a new centre for reviving local community, bringing people together to grow food, make friends, and to be part of something. &#x5;&#x5;Because it was left to all of us, it can't be built on and turned into private homes. Instead, it's up to us to decide its future and ours. &#x5;&#x5;What kind of future would you like to help create?&#x5;" CSHADE2="100″ CKERN="0″ CSCALE="100″ CSHADE="100″ COUT="1″ CSCALEV="100″ CSTP="-0.1″ CULW="-0.1″ CSTYLE="0″ CFONT="GaramondNo8 Regular" CSHX="5″ CSHY="-5″ CSTROKE="Black" />
</ITEM>
<ITEM BottomLine="0″ REXTRA="0″ LANGUAGE="English" NUMPO="16″ PLINEART="1″ TXTSCALE="100″ ALIGN="0″ RightLine="0″ LOCALSCX="0.72″ LINESP="14.4″ ROT="0″ TXTSHX="5″ TXTSTROKE="Black" WIDTH="198″ BACKPAGE="-1″ GROUPS="" LOCKR="0″ IFONT="Times New Roman Regular" LOCALSCY="0.72″ NAMEDLST="" TXTSHY="-5″ AUTOTEXT="0″ FLIPPEDV="0″ PCOLOR="None" RADRECT="0″ REVERS="0″ PRINTABLE="1″ RATIO="1″ FLIPPEDH="0″ COLGAP="14.4″ PCOLOR2="None" NEXTITEM="-1″ NUMGROUP="0″ TransValue="0″ PLINEEND="0″ TXTSTW="-0.1″ FRTYPE="0″ PTYPE="2″ isTableItem="0″ TEXTFLOW2="0″ SHADE2="100″ TXTBASE="0″ PWIDTH="1″ HEIGHT="138″ DASHOFF="0″ PFILE2="" PFILE="My Documents/Transition/Turner's Field/Chamomile_flowers.jpg" TEXTFLOW3="0″ ISIZE="12″ PLTSHOW="0″ LINESPMode="0″ TXTSTYLE="0″ CLIPEDIT="0″ BACKITEM="-1″ TransValueS="0″ EMBEDDED="0″ PFILE3="" ANNAME="" SHADE="100″ TXTULP="-0.1″ NUMTEXT="0″ fillRule="1″ COCOOR="0 0 0 0 198 0 198 0 198 0 198 0 198 138 198 138 198 138 198 138 0 138 0 138 0 138 0 138 0 0 0 0 " BASEOF="0″ PICART="1″ TXTKERN="0″ COLUMNS="1″ TEXTCOOR="" BOOKMARK="0″ startArrowIndex="0″ TopLine="0″ LOCK="0″ EPROF="" DASHS="" IRENDER="1″ TEXTFLOW="0″ TXTFILLSH="100″ YPOS="42″ ANNOTATION="0″ LOCALX="0″ GRTYP="0″ XPOS="602.11″ NUMCO="16″ POCOOR="0 0 0 0 198 0 198 0 198 0 198 0 198 138 198 138 198 138 198 138 0 138 0 138 0 138 0 138 0 0 0 0 " EXTRA="0″ LOCALY="0″ NEXTPAGE="-1″ NUMDASH="0″ LeftLine="0″ PRFILE="" TEXTRA="0″ SCALETYPE="1″ TXTOUT="1″ TXTFILL="Black" endArrowIndex="0″ BEXTRA="0″ PLINEJOIN="0″ TXTSTP="-0.1″ TXTULW="-0.1″ TXTSCALEV="100″ TXTSTRSH="100″ />
<ITEM BottomLine="0″ REXTRA="0″ LANGUAGE="English" NUMPO="16″ PLINEART="1″ TXTSCALE="100″ ALIGN="0″ RightLine="0″ LOCALSCX="1″ LINESP="14.4″ ROT="0″ TXTSHX="5″ TXTSTROKE="Black" WIDTH="198″ BACKPAGE="-1″ GROUPS="" LOCKR="0″ IFONT="Times New Roman Regular" LOCALSCY="1″ NAMEDLST="" TXTSHY="-5″ AUTOTEXT="0″ FLIPPEDV="0″ PCOLOR="None" RADRECT="0″ REVERS="0″ PRINTABLE="1″ RATIO="1″ FLIPPEDH="0″ COLGAP="14.4″ PCOLOR2="None" NEXTITEM="-1″ NUMGROUP="0″ TransValue="0″ PLINEEND="0″ TXTSTW="-0.1″ FRTYPE="0″ PTYPE="4″ isTableItem="0″ TEXTFLOW2="0″ SHADE2="100″ TXTBASE="0″ PWIDTH="1″ HEIGHT="525″ DASHOFF="0″ PFILE2="" PFILE="" TEXTFLOW3="0″ ISIZE="12″ PLTSHOW="0″ LINESPMode="0″ TXTSTYLE="0″ CLIPEDIT="0″ BACKITEM="-1″ TransValueS="0″ EMBEDDED="1″ PFILE3="" ANNAME="" SHADE="100″ TXTULP="-0.1″ NUMTEXT="701″ fillRule="1″ COCOOR="0 0 0 0 198 0 198 0 198 0 198 0 198 525 198 525 198 525 198 525 0 525 0 525 0 525 0 525 0 0 0 0 " BASEOF="0″ PICART="1″ TXTKERN="0″ COLUMNS="1″ TEXTCOOR="21.0059 25.9961 41.0273 25.9961 53.0156 25.9961 63.0176 25.9961 78.9961 25.9961 96.9961 25.9961 114.996 25.9961 129.006 25.9961 138.006 25.9961 156.006 25.9961 167.994 25.9961 0 47.4801 0 54.7961 33.4863 54.7961 54.2109 54.7961 72.2109 54.7961 84.1992 54.7961 102.199 54.7961 118.178 54.7961 131.502 54.7961 141.504 54.7961 155.514 54.7961 0 69.1961 0 83.5961 41.0186 83.5961 67.0166 83.5961 85.0166 83.5961 97.0049 83.5961 111.015 83.5961 126.993 83.5961 138.981 83.5961 0 97.9961 0 112.396 0 112.396 13.8203 112.396 20.9219 112.396 25.8529 112.396 32.9544 112.396 38.2826 112.396 45.3841 112.396 50.3151 112.396 57.4167 112.396 62.3477 112.396 70.3477 112.396 75.6758 112.396 83.6758 112.396 91.6758 112.396 99.6758 112.396 104.607 112.396 112.607 112.396 117.935 112.396 122.866 112.396 130.866 112.396 137.967 112.396 145.967 112.396 153.967 112.396 158.413 112.396 165.514 112.396 170.445 112.396 182 112.396 190 112.396 198 112.396 0 126.796 4.44531 126.796 8.89062 126.796 16.8906 126.796 23.9922 126.796 32.8359 126.796 37.2812 126.796 45.2812 126.796 54.125 126.796 65.6797 126.796 73.6797 126.796 81.6797 126.796 88.7812 126.796 94.1094 126.796 102.953 126.796 111.852 126.796 118.953 126.796 124.281 126.796 132.281 126.796 138.508 126.796 142.953 126.796 150.953 126.796 158.953 126.796 166.055 126.796 174.898 126.796 182 126.796 190 126.796 198 126.796 0 141.196 11.5547 141.196 19.5547 141.196 27.5547 141.196 38.3609 141.196 49.9156 141.196 57.9156 141.196 65.9156 141.196 70.3609 141.196 78.3609 141.196 89.1672 141.196 93.6125 141.196 98.0578 141.196 106.058 141.196 113.159 141.196 123.966 141.196 128.411 141.196 136.411 141.196 147.217 141.196 153.444 141.196 160.545 141.196 167.647 141.196 178.453 141.196 182.898 141.196 190.898 141.196 198 141.196 0 155.596 8 155.596 13.3281 155.596 20.4297 155.596 32.875 155.596 40.875 155.596 45.3203 155.596 52.4219 155.596 67.5677 155.596 75.5677 155.596 82.6693 155.596 87.1146 155.596 94.2161 155.596 102.216 155.596 117.362 155.596 124.464 155.596 128.909 155.596 143.766 155.596 152.977 155.596 160.977 155.596 166.305 155.596 174.305 155.596 181.406 155.596 187.328 155.596 191.773 155.596 198 155.596 0 169.996 11.5547 169.996 19.5547 169.996 24.8828 169.996 31.1094 169.996 38.2109 169.996 43.5391 169.996 51.5391 169.996 57.1937 169.996 65.1937 169.996 73.1937 169.996 80.2953 169.996 88.2953 169.996 95.3969 169.996 103.397 169.996 109.052 169.996 117.052 169.996 125.052 169.996 130.706 169.996 136.034 169.996 144.034 169.996 149.363 169.996 155.017 169.996 163.017 169.996 169.244 169.996 176.345 169.996 182 169.996 190 169.996 198 169.996 0 184.396 4.44531 184.396 12.4453 184.396 19.5469 184.396 27.1953 184.396 34.2969 184.396 42.2969 184.396 54.7422 184.396 67.1875 184.396 75.1875 184.396 83.1875 184.396 87.6328 184.396 92.0781 184.396 100.078 184.396 107.727 184.396 114.828 184.396 122.828 184.396 130.828 184.396 138.477 184.396 146.477 184.396 151.805 184.396 159.805 184.396 164.25 184.396 171.352 184.396 178.453 184.396 182.898 184.396 190 184.396 198 184.396 0 198.796 5.32812 198.796 10.6562 198.796 18.6562 198.796 31.1016 198.796 44.1953 198.796 52.1953 198.796 60.1953 198.796 67.2969 198.796 72.3047 198.796 77.6328 198.796 85.6328 198.796 92.7344 198.796 100.734 198.796 107.836 198.796 112.281 198.796 120.281 198.796 128.281 198.796 140.727 198.796 147.828 198.796 155.828 198.796 160.273 198.796 164.273 198.796 177.078 198.796 190.898 198.796 198 198.796 0 213.196 8 213.196 15.1016 213.196 19.5469 213.196 23.9922 213.196 31.0938 213.196 39.0938 213.196 46.1953 213.196 52.7438 213.196 57.1891 213.196 65.1891 213.196 72.2906 213.196 76.7359 213.196 83.2844 213.196 90.3859 213.196 94.8313 213.196 99.2766 213.196 105.825 213.196 113.825 213.196 121.825 213.196 128.927 213.196 136.927 213.196 143.475 213.196 149.702 213.196 157.702 213.196 164.803 213.196 171.905 213.196 179.006 213.196 185.555 213.196 190 213.196 198 213.196 0 227.596 8.89844 227.596 16.8984 227.596 24.8984 227.596 29.3438 227.596 36.4453 227.596 40.4453 227.596 44.8906 227.596 51.1172 227.596 55.1172 227.596 63.1172 227.596 68.4453 227.596 75.5469 227.596 82.6484 227.596 87.0938 227.596 95.0938 227.596 103.094 227.596 109.32 227.596 113.32 227.596 0 241.996 0 256.396 0 256.396 8.89844 256.396 16.8984 256.396 29.3438 256.396 36.4453 256.396 47.7875 256.396 55.7875 256.396 61.1156 256.396 72.4578 256.396 80.4578 256.396 86.6844 256.396 98.0266 256.396 106.027 256.396 113.128 256.396 121.128 256.396 128.23 256.396 139.572 256.396 147.572 256.396 154.673 256.396 161.775 256.396 167.103 256.396 173.33 256.396 184.672 256.396 192.672 256.396 198 256.396 0 270.796 7.10156 270.796 15.1016 270.796 23.1016 270.796 30.2031 270.796 35.5312 270.796 39.9766 270.796 47.0781 270.796 55.0781 270.796 62.1797 270.796 69.2812 270.796 80.7656 270.796 92.3203 270.796 100.32 270.796 105.648 270.796 113.648 270.796 118.094 270.796 126.094 270.796 134.094 270.796 145.578 270.796 150.023 270.796 158.023 270.796 166.023 270.796 173.125 270.796 177.57 270.796 185.57 270.796 192.672 270.796 198 270.796 0 285.196 4.44531 285.196 12.4453 285.196 31.7917 285.196 38.8932 285.196 58.2396 285.196 65.3411 285.196 73.3411 285.196 85.7865 285.196 98.2318 285.196 106.232 285.196 114.232 285.196 118.677 285.196 123.122 285.196 131.122 285.196 150.469 285.196 158.469 285.196 165.57 285.196 170.898 285.196 178.898 285.196 186 285.196 194 285.196 198 285.196 0 299.596 11.5547 299.596 16 299.596 24 299.596 31.1016 299.596 36.4297 299.596 42.6562 299.596 50.2687 299.596 57.3703 299.596 62.6984 299.596 69.8 299.596 77.4125 299.596 85.4125 299.596 92.5141 299.596 104.069 299.596 111.681 299.596 116.127 299.596 124.127 299.596 131.739 299.596 136.184 299.596 144.184 299.596 151.286 299.596 158.898 299.596 170.453 299.596 178.453 299.596 186.453 299.596 190.898 299.596 198 299.596 0 313.996 4.44531 313.996 12.4453 313.996 19.5469 313.996 26.6484 313.996 30.6484 313.996 37.75 313.996 45.75 313.996 53.75 313.996 57.75 313.996 63.0781 313.996 70.1797 313.996 77.2812 313.996 85.2812 313.996 93.2812 313.996 97.2812 313.996 101.727 313.996 109.727 313.996 113.727 313.996 118.172 313.996 125.273 313.996 132.375 313.996 137.703 313.996 145.703 313.996 0 328.396 0 342.796 0 342.796 11.5547 342.796 19.5547 342.796 26.6562 342.796 37.4395 342.796 45.4395 342.796 50.7676 342.796 61.5508 342.796 69.5508 342.796 77.5508 342.796 82.8789 342.796 93.6621 342.796 101.662 342.796 109.662 342.796 122.107 342.796 130.107 342.796 137.209 342.796 141.896 342.796 145.896 342.796 156.68 342.796 162.906 342.796 170.008 342.796 182.453 342.796 186.898 342.796 194 342.796 198 342.796 0 357.196 11.5547 357.196 19.5547 357.196 27.5547 357.196 34.8008 357.196 39.2461 357.196 43.6914 357.196 51.6914 357.196 58.793 357.196 65.0195 357.196 72.2656 357.196 80.2656 357.196 85.3047 357.196 90.6328 357.196 97.8789 357.196 109.434 357.196 117.434 357.196 125.434 357.196 129.879 357.196 136.98 357.196 144.98 357.196 152.98 357.196 160.227 357.196 170.898 357.196 178.898 357.196 186 357.196 194 357.196 198 357.196 0 371.596 8 371.596 15.1016 371.596 21.3281 371.596 30.832 371.596 42.3867 371.596 47.7148 371.596 52.1602 371.596 56.6055 371.596 61.0508 371.596 68.1523 371.596 76.1523 371.596 85.6562 371.596 92.7578 371.596 100.758 371.596 108.758 371.596 116.758 371.596 121.203 371.596 130.707 371.596 138.707 371.596 143.152 371.596 149.379 371.596 158.883 371.596 166.883 371.596 171.328 371.596 177.555 371.596 182 371.596 190 371.596 198 371.596 0 385.996 5.32812 385.996 13.3281 385.996 18.6562 385.996 33.3926 385.996 37.8379 385.996 45.8379 385.996 52.9395 385.996 67.6758 385.996 72.1211 385.996 79.2227 385.996 87.2227 385.996 95.2227 385.996 109.959 385.996 115.287 385.996 121.514 385.996 128.615 385.996 135.717 385.996 150.453 385.996 154.898 385.996 162.898 385.996 169.125 385.996 173.57 385.996 181.57 385.996 188.672 385.996 194 385.996 198 385.996 0 400.396 15.1016 400.396 23.1016 400.396 30.2031 400.396 34.6484 400.396 37.5312 400.396 43.7578 400.396 47.7578 400.396 55.7578 400.396 63.7578 400.396 71.7578 400.396 77.0859 400.396 81.0859 400.396 89.0859 400.396 93.5312 400.396 99.7578 400.396 104.203 400.396 112.203 400.396 120.203 400.396 127.305 400.396 0 414.796 0 429.196 0 429.196 5.32812 429.196 10.6562 429.196 21.6422 429.196 29.6422 429.196 37.6422 429.196 45.6422 429.196 56.6281 429.196 68.1828 429.196 76.1828 429.196 84.1828 429.196 88.6281 429.196 96.6281 429.196 107.614 429.196 112.059 429.196 116.505 429.196 124.505 429.196 131.606 429.196 142.592 429.196 147.038 429.196 155.038 429.196 166.023 429.196 170.469 429.196 177.57 429.196 184.672 429.196 190 429.196 198 429.196 0 443.596 12.4453 443.596 20.4453 443.596 25.7734 443.596 32.875 443.596 40.9453 443.596 48.9453 443.596 54.2734 443.596 62.3438 443.596 70.3438 443.596 77.4453 443.596 81.8906 443.596 89.9609 443.596 94.4062 443.596 102.406 443.596 110.406 443.596 118.406 443.596 122.852 443.596 130.852 443.596 137.953 443.596 145.953 443.596 149.953 443.596 158.023 443.596 166.023 443.596 170.469 443.596 177.57 443.596 184.672 443.596 190.898 443.596 198 443.596 0 457.996 8 457.996 15.1016 457.996 19.5469 457.996 23.5469 457.996 27.9922 457.996 35.9922 457.996 39.9922 457.996 44.4375 457.996 52.4375 457.996 60.4375 457.996 67.5391 457.996 75.5391 457.996 79.5391 457.996 0 472.396 0 486.796 7.20703 486.796 13.8809 486.796 17.877 486.796 21.2109 486.796 26.5371 486.796 32.5371 486.796 38.5371 486.796 43.207 486.796 49.207 486.796 53.2031 486.796 60.1113 486.796 66.1113 486.796 70.1074 486.796 76.1074 486.796 81.4336 486.796 85.4297 486.796 90.0996 486.796 98.7656 486.796 104.766 486.796 108.762 486.796 113.432 486.796 118.758 486.796 122.754 486.796 128.754 486.796 139.805 486.796 145.805 486.796 155.139 486.796 160.465 486.796 163.799 486.796 167.133 486.796 170.133 486.796 175.459 486.796 181.459 486.796 0 501.196 30.1143 501.196 36.1143 501.196 39.4482 501.196 42.7822 501.196 48.7822 501.196 52.1162 501.196 55.4502 501.196 58.7842 501.196 62.1182 501.196 66.1143 501.196 71.4404 501.196 77.4404 501.196 82.1104 501.196 85.4443 501.196 88.7783 501.196 92.1123 501.196 98.1123 501.196 104.112 501.196 110.112 501.196 116.112 501.196 122.112 501.196 125.446 501.196 130.772 501.196 133.772 501.196 139.772 501.196 143.552 501.196 149.552 501.196 152.552 501.196 158.552 501.196 164.552 501.196 0 515.596 45.0146 515.596 51.0146 515.596 55.0107 515.596 58.0107 515.596 62.0068 515.596 65.3408 515.596 71.3408 515.596 77.3408 515.596 80.3408 515.596 86.3408 515.596 91.0107 515.596 94.0107 515.596 100.011 515.596 106.011 515.596 109.011 515.596 113.007 515.596 118.333 515.596 123.659 515.596 128.985 515.596 134.985 515.596 140.985 515.596 146.985 515.596 0 529.996 0 0 0 0 " BOOKMARK="0″ startArrowIndex="0″ TopLine="0″ LOCK="0″ EPROF="" DASHS="" IRENDER="1″ TEXTFLOW="0″ TXTFILLSH="100″ YPOS="39″ ANNOTATION="0″ LOCALX="0″ GRTYP="0″ XPOS="-522.89″ NUMCO="16″ POCOOR="0 0 0 0 198 0 198 0 198 0 198 0 198 525 198 525 198 525 198 525 0 525 0 525 0 525 0 525 0 0 0 0 " EXTRA="0″ LOCALY="0″ NEXTPAGE="-1″ NUMDASH="0″ LeftLine="0″ PRFILE="" TEXTRA="0″ SCALETYPE="1″ TXTOUT="1″ TXTFILL="Black" endArrowIndex="0″ BEXTRA="0″ PLINEJOIN="0″ TXTSTP="-0.1″ TXTULW="-0.1″ TXTSCALEV="100″ TXTSTRSH="100″ >
<ITEXT CAB="1″ CCOLOR="Black" CBASE="0″ CSTW="-0.1″ CSIZE="36″ CULP="-0.1″ CH="Friends of &#x5;" CSHADE2="100″ CKERN="0″ CSCALE="100″ CSHADE="100″ COUT="1″ CSCALEV="100″ CSTP="-0.1″ CULW="-0.1″ CSTYLE="0″ CFONT="Times New Roman Regular" CSHX="5″ CSHY="-5″ CSTROKE="Black" />
<ITEXT CAB="1″ CCOLOR="Black" CBASE="0″ CSTW="-0.1″ CSIZE="16″ CULP="-0.1″ CH="&#x5;" CSHADE2="100″ CKERN="0″ CSCALE="100″ CSHADE="100″ COUT="1″ CSCALEV="100″ CSTP="-0.1″ CULW="-0.1″ CSTYLE="0″ CFONT="Times New Roman Regular" CSHX="5″ CSHY="-5″ CSTROKE="Black" />
<ITEXT CAB="1″ CCOLOR="Black" CBASE="0″ CSTW="-0.1″ CSIZE="36″ CULP="-0.1″ CH="Turner's &#x5;" CSHADE2="100″ CKERN="0″ CSCALE="100″ CSHADE="100″ COUT="1″ CSCALEV="100″ CSTP="-0.1″ CULW="-0.1″ CSTYLE="0″ CFONT="Times New Roman Regular" CSHX="5″ CSHY="-5″ CSTROKE="Black" />
<ITEXT CAB="1″ CCOLOR="Black" CBASE="0″ CSTW="-0.1″ CSIZE="16″ CULP="-0.1″ CH="&#x5;" CSHADE2="100″ CKERN="0″ CSCALE="100″ CSHADE="100″ COUT="1″ CSCALEV="100″ CSTP="-0.1″ CULW="-0.1″ CSTYLE="0″ CFONT="Times New Roman Regular" CSHX="5″ CSHY="-5″ CSTROKE="Black" />
<ITEXT CAB="1″ CCOLOR="Black" CBASE="0″ CSTW="-0.1″ CSIZE="36″ CULP="-0.1″ CH="Nursery&#x5;" CSHADE2="100″ CKERN="0″ CSCALE="100″ CSHADE="100″ COUT="1″ CSCALEV="100″ CSTP="-0.1″ CULW="-0.1″ CSTYLE="0″ CFONT="Times New Roman Regular" CSHX="5″ CSHY="-5″ CSTROKE="Black" />
<ITEXT CAB="1″ CCOLOR="Black" CBASE="0″ CSTW="-0.1″ CSIZE="16″ CULP="-0.1″ CH="&#x5;" CSHADE2="100″ CKERN="0″ CSCALE="100″ CSHADE="100″ COUT="1″ CSCALEV="100″ CSTP="-0.1″ CULW="-0.1″ CSTYLE="0″ CFONT="Times New Roman Regular" CSHX="5″ CSHY="-5″ CSTROKE="Black" />
<ITEXT CAB="3″ CCOLOR="Black" CBASE="0″ CSTW="-0.1″ CSIZE="16″ CULP="-0.1″ CH="We are a group of people who live in Upper Parkstone and who would like to see the bramble patch at Turner's Nursery opened up for use by the community and protected from over-development. We believe that all open space in Poole is precious. &#x5;&#x5;Some of us have years of experience working together in a community garden. Others are new to the whole idea and ready to learn.&#x5;&#x5;One of our number, Jamie, who lives off Uppleby Road, has written about his vision for the land (see inside). What's your vision? &#x5;&#x5;If you would like to learn more or get involved, please get in touch. &#x5;&#x5;" CSHADE2="100″ CKERN="0″ CSCALE="100″ CSHADE="100″ COUT="1″ CSCALEV="100″ CSTP="-0.1″ CULW="-0.1″ CSTYLE="0″ CFONT="Times New Roman Regular" CSHX="5″ CSHY="-5″ CSTROKE="Black" />
<ITEXT CAB="1″ CCOLOR="Black" CBASE="0″ CSTW="-0.1″ CSIZE="12″ CULP="-0.1″ CH="FriendsofTurnersNursery@gmail.com&#x5;http://transitionpoole.org.uk/&#x5;or find us on facebook&#x5;&#x5;&#x5;" CSHADE2="100″ CKERN="0″ CSCALE="100″ CSHADE="100″ COUT="1″ CSCALEV="100″ CSTP="-0.1″ CULW="-0.1″ CSTYLE="0″ CFONT="Times New Roman Regular" CSHX="5″ CSHY="-5″ CSTROKE="Black" />
</ITEM>
<ITEM BottomLine="0″ REXTRA="0″ LANGUAGE="English" NUMPO="16″ PLINEART="1″ TXTSCALE="100″ ALIGN="0″ RightLine="0″ LOCALSCX="1″ LINESP="14.4″ ROT="0″ TXTSHX="5″ TXTSTROKE="Black" WIDTH="200″ BACKPAGE="-1″ GROUPS="" LOCKR="0″ IFONT="Times New Roman Regular" LOCALSCY="1″ NAMEDLST="" TXTSHY="-5″ AUTOTEXT="0″ FLIPPEDV="0″ PCOLOR="None" RADRECT="0″ REVERS="0″ PRINTABLE="1″ RATIO="1″ FLIPPEDH="0″ COLGAP="14.4″ PCOLOR2="None" NEXTITEM="-1″ NUMGROUP="0″ TransValue="0″ PLINEEND="0″ TXTSTW="-0.1″ FRTYPE="0″ PTYPE="4″ isTableItem="0″ TEXTFLOW2="0″ SHADE2="100″ TXTBASE="0″ PWIDTH="1″ HEIGHT="400″ DASHOFF="0″ PFILE2="" PFILE="" TEXTFLOW3="0″ ISIZE="12″ PLTSHOW="0″ LINESPMode="0″ TXTSTYLE="0″ CLIPEDIT="0″ BACKITEM="-1″ TransValueS="0″ EMBEDDED="1″ PFILE3="" ANNAME="" SHADE="100″ TXTULP="-0.1″ NUMTEXT="485″ fillRule="1″ COCOOR="0 0 0 0 200 0 200 0 200 0 200 0 200 400 200 400 200 400 200 400 0 400 0 400 0 400 0 400 0 0 0 0 " BASEOF="0″ PICART="1″ TXTKERN="0″ COLUMNS="1″ TEXTCOOR="0 14.8428 4.78125 14.8428 17.0596 14.8428 27.0176 14.8428 34.6465 14.8428 41.3262 14.8428 48.9551 14.8428 59.9426 14.8428 69.5667 14.8428 75.8772 14.8428 83.5061 14.8428 92.7961 14.8428 103.784 14.8428 109.47 14.8428 119.094 14.8428 130.082 14.8428 139.706 14.8428 147.335 14.8428 158.322 14.8428 173.255 14.8428 180.884 14.8428 190.376 14.8428 200 14.8428 0 29.2428 9.95801 29.2428 19.582 29.2428 26.5957 29.2428 32.9062 29.2428 40.5352 29.2428 47.6367 29.2428 52.6113 29.2428 60.2402 29.2428 66.5508 29.2428 85.6042 29.2428 91.2907 29.2428 100.915 29.2428 119.968 29.2428 126.279 29.2428 133.908 29.2428 141.422 29.2428 149.825 29.2428 157.453 29.2428 176.507 29.2428 182.413 29.2428 192.371 29.2428 200 29.2428 0 43.6428 9.62402 43.6428 19.248 43.6428 28.8721 43.6428 38.4961 43.6428 43.4707 43.6428 51.0996 43.6428 57.0762 43.6428 62.0508 43.6428 71.6748 43.6428 81.6328 43.6428 86.2822 43.6428 116.506 43.6428 121.155 43.6428 125.805 43.6428 130.454 43.6428 160.678 43.6428 172.956 43.6428 182.914 43.6428 190.376 43.6428 200 43.6428 0 58.0428 9.29004 58.0428 16.9189 58.0428 21.8936 58.0428 26.8682 58.0428 35.2705 58.0428 42.8994 58.0428 49.5791 58.0428 57.208 58.0428 66.498 58.0428 78.5436 58.0428 84.4499 58.0428 94.4079 58.0428 102.037 58.0428 107.011 58.0428 113.981 58.0428 126.027 58.0428 134.324 58.0428 143.948 58.0428 153.572 58.0428 162.862 58.0428 169.172 58.0428 181.218 58.0428 190.376 58.0428 200 58.0428 0 72.4428 9.95801 72.4428 19.582 72.4428 26.5957 72.4428 32.9062 72.4428 40.5352 72.4428 49.8901 72.4428 57.519 72.4428 67.4771 72.4428 76.7671 72.4428 86.1221 72.4428 93.751 72.4428 101.38 72.4428 108.851 72.4428 114.827 72.4428 124.182 72.4428 130.088 72.4428 140.046 72.4428 147.675 72.4428 157.633 72.4428 166.988 72.4428 171.963 72.4428 179.592 72.4428 185.401 72.4428 193.03 72.4428 200 72.4428 0 86.8428 9.1582 86.8428 18.7822 86.8428 51.9678 86.8428 66.9004 86.8428 76.4189 86.8428 82.1055 86.8428 91.7295 86.8428 98.4004 86.8428 106.029 86.8428 115.056 86.8428 122.685 86.8428 127.659 86.8428 135.288 86.8428 139.938 86.8428 173.123 86.8428 189.383 86.8428 195.351 86.8428 200 86.8428 0 101.243 10.3975 101.243 20.0215 101.243 27.1846 101.243 37.1426 101.243 44.7715 101.243 51.7412 101.243 58.6258 101.243 66.2547 101.243 76.2127 101.243 85.5027 101.243 92.3873 101.243 102.345 101.243 107.32 101.243 113.63 101.243 120.515 101.243 126.826 101.243 136.45 101.243 146.408 101.243 153.292 101.243 164.243 101.243 169.218 101.243 174.193 101.243 179.167 101.243 186.052 101.243 190.701 101.243 195.351 101.243 200 101.243 0 115.643 9.62402 115.643 19.248 115.643 28.8721 115.643 37.1689 115.643 47.127 115.643 53.1035 115.643 69.959 115.643 84.0566 115.643 93.6807 115.643 103.305 115.643 108.279 115.643 115.908 115.643 125.066 115.643 134.69 115.643 151.546 115.643 166.812 115.643 176.437 115.643 186.061 115.643 192.371 115.643 200 115.643 0 130.043 5.64258 130.043 12.252 130.043 21.876 130.043 36.8086 130.043 50.8867 130.043 62.1719 130.043 67.1465 130.043 72.1211 130.043 80.418 130.043 88.0469 130.043 97.6709 130.043 105.326 130.043 111.232 130.043 121.19 130.043 135.269 130.043 149.366 130.043 158.99 130.043 168.614 130.043 173.589 130.043 181.218 130.043 190.376 130.043 200 130.043 0 144.443 7.62891 144.443 17.5869 144.443 26.877 144.443 39.7399 144.443 46.2438 144.443 52.2116 144.443 59.8405 144.443 67.3112 144.443 73.1208 144.443 80.7497 144.443 90.0397 144.443 102.903 144.443 108.809 144.443 118.767 144.443 126.396 144.443 139.259 144.443 148.883 144.443 158.507 144.443 164.817 144.443 169.792 144.443 179.75 144.443 187.379 144.443 193.689 144.443 200 144.443 0 158.843 9.62402 158.843 19.582 158.843 39.6663 158.843 47.8489 158.843 56.4797 158.843 65.1106 158.843 85.1948 158.843 92.8237 158.843 100.453 158.843 107.132 158.843 114.761 158.843 121.072 158.843 141.156 158.843 150.78 158.843 156.423 158.843 176.507 158.843 182.413 158.843 192.371 158.843 200 158.843 0 173.243 6.31055 173.243 15.9346 173.243 22.9922 173.243 29.6016 173.243 39.2256 173.243 48.8496 173.243 58.8076 173.243 68.0977 173.243 73.0723 173.243 83.0303 173.243 91.3271 173.243 95.9766 173.243 100.951 173.243 108.58 173.243 118.538 173.243 127.828 173.243 0 187.643 0 202.043 0 202.043 4.97461 202.043 10.9512 202.043 20.9092 202.043 30.7651 202.043 41.7163 202.043 46.6909 202.043 51.6655 202.043 56.6401 202.043 66.4961 202.043 76.8936 202.043 86.5176 202.043 93.6807 202.043 103.639 202.043 111.268 202.043 118.237 202.043 123.212 202.043 129.522 202.043 139.378 202.043 152.984 202.043 157.958 202.043 162.933 202.043 167.908 202.043 172.557 202.043 182.413 202.043 192.371 202.043 200 202.043 0 216.443 4.97461 216.443 12.6035 216.443 18.6855 216.443 24.6621 216.443 31.7963 216.443 37.7025 216.443 47.6605 216.443 55.2895 216.443 62.4236 216.443 70.782 216.443 77.4617 216.443 85.0906 216.443 92.7195 216.443 102.678 216.443 109.812 216.443 116.122 216.443 125.746 216.443 133.375 216.443 141.004 216.443 148.633 216.443 155.767 216.443 163.396 216.443 169.373 216.443 176.507 216.443 182.413 216.443 192.371 216.443 200 216.443 0 230.843 5.68652 230.843 15.3105 230.843 24.9346 230.843 45.1364 230.843 54.7604 230.843 60.403 230.843 80.6048 230.843 93.3753 230.843 98.3499 230.843 105.979 230.843 111.665 230.843 121.289 230.843 128.391 230.843 133.366 230.843 140.994 230.843 161.196 230.843 173.457 230.843 183.081 230.843 190.71 230.843 200 230.843 0 245.243 9.62402 245.243 19.248 245.243 28.8721 245.243 38.4961 245.243 44.8066 245.243 49.7812 245.243 55.5908 245.243 63.2197 245.243 70.528 245.243 76.4342 245.243 86.3923 245.243 94.0212 245.243 101.329 245.243 108.958 245.243 116.587 245.243 131.52 245.243 139.175 245.243 144.985 245.243 152.614 245.243 160.128 245.243 169.752 245.243 177.061 245.243 184.689 245.243 190.376 245.243 200 245.243 0 259.643 9.62402 259.643 17.2529 259.643 27.2875 259.643 34.9164 259.643 44.8744 259.643 54.909 259.643 64.533 259.643 74.157 259.643 81.7859 259.643 91.7439 259.643 101.779 259.643 108.089 259.643 117.713 259.643 125.342 259.643 132.971 259.643 140.6 259.643 150.634 259.643 155.794 259.643 165.418 259.643 172.387 259.643 182.422 259.643 190.051 259.643 195.025 259.643 200 259.643 0 274.043 5.97656 274.043 10.9512 274.043 25.8838 274.043 33.5127 274.043 38.1621 274.043 62.0231 274.043 68.3337 274.043 77.9577 274.043 101.819 274.043 111.443 274.043 119.072 274.043 128.696 274.043 138.32 274.043 143.294 274.043 150.923 274.043 174.784 274.043 182.413 274.043 190.042 274.043 200 274.043 0 288.443 9.62402 288.443 16.3037 288.443 23.9326 288.443 31.5615 288.443 37.4678 288.443 47.4258 288.443 55.0547 288.443 62.6836 288.443 66.6826 288.443 71.6572 288.443 76.3066 288.443 0 302.843 0 317.243 97.9854 317.243 111.591 317.243 116.24 317.243 131.507 317.243 136.481 317.243 142.985 317.243 148.672 317.243 158.296 317.243 165.811 317.243 175.435 317.243 180.084 317.243 189.708 317.243 195.351 317.243 0 331.643 73.7188 331.643 87.8164 331.643 97.4404 331.643 107.064 331.643 114.693 331.643 121.663 331.643 126.312 331.643 136.112 331.643 143.741 331.643 150.421 331.643 160.599 331.643 167.103 331.643 172.789 331.643 182.413 331.643 192.371 331.643 0 346.043 0 360.443 42.1572 360.443 51.957 360.443 59.5859 360.443 65.5625 360.443 72.6641 360.443 77.6387 360.443 85.2676 360.443 90.2422 360.443 97.8711 360.443 102.521 360.443 118.78 360.443 123.43 360.443 140.885 360.443 145.859 360.443 150.834 360.443 160.792 360.443 168.421 360.443 175.725 360.443 185.401 360.443 193.03 360.443 " BOOKMARK="0″ startArrowIndex="0″ TopLine="0″ LOCK="0″ EPROF="" DASHS="" IRENDER="1″ TEXTFLOW="0″ TXTFILLSH="100″ YPOS="101″ ANNOTATION="0″ LOCALX="0″ GRTYP="0″ XPOS="-801.89″ NUMCO="16″ POCOOR="0 0 0 0 200 0 200 0 200 0 200 0 200 400 200 400 200 400 200 400 0 400 0 400 0 400 0 400 0 0 0 0 " EXTRA="0″ LOCALY="0″ NEXTPAGE="-1″ NUMDASH="0″ LeftLine="0″ PRFILE="" TEXTRA="0″ SCALETYPE="1″ TXTOUT="1″ TXTFILL="Black" endArrowIndex="0″ BEXTRA="0″ PLINEJOIN="0″ TXTSTP="-0.1″ TXTULW="-0.1″ TXTSCALEV="100″ TXTSTRSH="100″ >
<ITEXT CAB="3″ CCOLOR="Black" CBASE="0″ CSTW="-0.1″ CSIZE="18″ CULP="-0.1″ CH="'There used to be many nurseries to serve the population. … They delivered their goods by horse and cart then later by motorcycle. Mr. Turner and his son Bill … bought Uppleby House from Elizabeth Uppleby and started the business on 150 acres of the surrounding land.&#x5;&#x5;'In Bill Turner's will, he left the green space at the top of Victoria Road opposite the cemetery "to be an open space for all time, so people can breathe".' &#x5;" CSHADE2="100″ CKERN="0″ CSCALE="100″ CSHADE="100″ COUT="1″ CSCALEV="100″ CSTP="-0.1″ CULW="-0.1″ CSTYLE="0″ CFONT="GaramondNo8 Regular" CSHX="5″ CSHY="-5″ CSTROKE="Black" />
<ITEXT CAB="0″ CCOLOR="Black" CBASE="0″ CSTW="-0.1″ CSIZE="18″ CULP="-0.1″ CH="&#x5;" CSHADE2="100″ CKERN="0″ CSCALE="100″ CSHADE="100″ COUT="1″ CSCALEV="100″ CSTP="-0.1″ CULW="-0.1″ CSTYLE="0″ CFONT="GaramondNo8 Regular" CSHX="5″ CSHY="-5″ CSTROKE="Black" />
<ITEXT CAB="2″ CCOLOR="Black" CBASE="0″ CSTW="-0.1″ CSIZE="18″ CULP="-0.1″ CH="A History of &#x5;Upper Parkstone&#x5;&#x5;Patricia M Wilnecker" CSHADE2="100″ CKERN="0″ CSCALE="100″ CSHADE="100″ COUT="1″ CSCALEV="100″ CSTP="-0.1″ CULW="-0.1″ CSTYLE="0″ CFONT="GaramondNo8 Regular" CSHX="5″ CSHY="-5″ CSTROKE="Black" />
</ITEM>
<ITEM BottomLine="0″ REXTRA="0″ LANGUAGE="English" NUMPO="16″ PLINEART="1″ TXTSCALE="100″ ALIGN="0″ RightLine="0″ LOCALSCX="0.48″ LINESP="14.4″ ROT="0″ TXTSHX="5″ TXTSTROKE="Black" WIDTH="197″ BACKPAGE="-1″ GROUPS="" LOCKR="0″ IFONT="Times New Roman Regular" LOCALSCY="0.48″ NAMEDLST="" TXTSHY="-5″ AUTOTEXT="0″ FLIPPEDV="0″ PCOLOR="None" RADRECT="0″ REVERS="0″ PRINTABLE="1″ RATIO="1″ FLIPPEDH="0″ COLGAP="14.4″ PCOLOR2="None" NEXTITEM="-1″ NUMGROUP="0″ TransValue="0″ PLINEEND="0″ TXTSTW="-0.1″ FRTYPE="0″ PTYPE="2″ isTableItem="0″ TEXTFLOW2="0″ SHADE2="100″ TXTBASE="0″ PWIDTH="1″ HEIGHT="155″ DASHOFF="0″ PFILE2="" PFILE="My Documents/Transition/Turner's Field/orchard.jpg" TEXTFLOW3="0″ ISIZE="12″ PLTSHOW="0″ LINESPMode="0″ TXTSTYLE="0″ CLIPEDIT="0″ BACKITEM="-1″ TransValueS="0″ EMBEDDED="0″ PFILE3="" ANNAME="" SHADE="100″ TXTULP="-0.1″ NUMTEXT="0″ fillRule="1″ COCOOR="0 0 0 0 197 0 197 0 197 0 197 0 197 155 197 155 197 155 197 155 0 155 0 155 0 155 0 155 0 0 0 0 " BASEOF="0″ PICART="1″ TXTKERN="0″ COLUMNS="1″ TEXTCOOR="" BOOKMARK="0″ startArrowIndex="0″ TopLine="0″ LOCK="0″ EPROF="" DASHS="" IRENDER="1″ TEXTFLOW="0″ TXTFILLSH="100″ YPOS="160″ ANNOTATION="0″ LOCALX="0″ GRTYP="0″ XPOS="320.11″ NUMCO="16″ POCOOR="0 0 0 0 197 0 197 0 197 0 197 0 197 155 197 155 197 155 197 155 0 155 0 155 0 155 0 155 0 0 0 0 " EXTRA="0″ LOCALY="0″ NEXTPAGE="-1″ NUMDASH="0″ LeftLine="0″ PRFILE="" TEXTRA="0″ SCALETYPE="1″ TXTOUT="1″ TXTFILL="Black" endArrowIndex="0″ BEXTRA="0″ PLINEJOIN="0″ TXTSTP="-0.1″ TXTULW="-0.1″ TXTSCALEV="100″ TXTSTRSH="100″ />
<ITEM BottomLine="0″ REXTRA="0″ LANGUAGE="English" NUMPO="16″ PLINEART="1″ TXTSCALE="100″ ALIGN="0″ RightLine="0″ LOCALSCX="0.75″ LINESP="14.4″ ROT="0″ TXTSHX="5″ TXTSTROKE="Black" WIDTH="244″ BACKPAGE="-1″ GROUPS="" LOCKR="0″ IFONT="Times New Roman Regular" LOCALSCY="0.75″ NAMEDLST="" TXTSHY="-5″ AUTOTEXT="0″ FLIPPEDV="0″ PCOLOR="None" RADRECT="0″ REVERS="0″ PRINTABLE="1″ RATIO="1″ FLIPPEDH="0″ COLGAP="14.4″ PCOLOR2="None" NEXTITEM="-1″ NUMGROUP="0″ TransValue="0″ PLINEEND="0″ TXTSTW="-0.1″ FRTYPE="0″ PTYPE="2″ isTableItem="0″ TEXTFLOW2="0″ SHADE2="100″ TXTBASE="0″ PWIDTH="1″ HEIGHT="281″ DASHOFF="0″ PFILE2="" PFILE="My Documents/Transition/Turner's Field/TurnersField80percent.jpg" TEXTFLOW3="0″ ISIZE="12″ PLTSHOW="0″ LINESPMode="0″ TXTSTYLE="0″ CLIPEDIT="0″ BACKITEM="-1″ TransValueS="0″ EMBEDDED="0″ PFILE3="" ANNAME="" SHADE="100″ TXTULP="-0.1″ NUMTEXT="0″ fillRule="1″ COCOOR="0 0 0 0 244 0 244 0 244 0 244 0 244 281 244 281 244 281 244 281 0 281 0 281 0 281 0 281 0 0 0 0 " BASEOF="0″ PICART="1″ TXTKERN="0″ COLUMNS="1″ TEXTCOOR="" BOOKMARK="0″ startArrowIndex="0″ TopLine="0″ LOCK="0″ EPROF="" DASHS="" IRENDER="1″ TEXTFLOW="0″ TXTFILLSH="100″ YPOS="158″ ANNOTATION="0″ LOCALX="0″ GRTYP="0″ XPOS="-263.89″ NUMCO="16″ POCOOR="0 0 0 0 244 0 244 0 244 0 244 0 244 281 244 281 244 281 244 281 0 281 0 281 0 281 0 281 0 0 0 0 " EXTRA="0″ LOCALY="0″ NEXTPAGE="-1″ NUMDASH="0″ LeftLine="0″ PRFILE="" TEXTRA="0″ SCALETYPE="1″ TXTOUT="1″ TXTFILL="Black" endArrowIndex="0″ BEXTRA="0″ PLINEJOIN="0″ TXTSTP="-0.1″ TXTULW="-0.1″ TXTSCALEV="100″ TXTSTRSH="100″ />
<ITEM BottomLine="0″ REXTRA="0″ LANGUAGE="English" NUMPO="16″ PLINEART="1″ TXTSCALE="100″ ALIGN="0″ RightLine="0″ LOCALSCX="1″ LINESP="14.4″ ROT="0″ TXTSHX="5″ TXTSTROKE="Black" WIDTH="201″ BACKPAGE="-1″ GROUPS="" LOCKR="0″ IFONT="Times New Roman Regular" LOCALSCY="1″ NAMEDLST="" TXTSHY="-5″ AUTOTEXT="0″ FLIPPEDV="0″ PCOLOR="None" RADRECT="0″ REVERS="0″ PRINTABLE="1″ RATIO="1″ FLIPPEDH="0″ COLGAP="14.4″ PCOLOR2="None" NEXTITEM="-1″ NUMGROUP="0″ TransValue="0″ PLINEEND="0″ TXTSTW="-0.1″ FRTYPE="0″ PTYPE="2″ isTableItem="0″ TEXTFLOW2="0″ SHADE2="100″ TXTBASE="0″ PWIDTH="1″ HEIGHT="116″ DASHOFF="0″ PFILE2="" PFILE="My Documents/Transition/Turner's Field/frog.jpg" TEXTFLOW3="0″ ISIZE="12″ PLTSHOW="0″ LINESPMode="0″ TXTSTYLE="0″ CLIPEDIT="0″ BACKITEM="-1″ TransValueS="0″ EMBEDDED="0″ PFILE3="" ANNAME="" SHADE="100″ TXTULP="-0.1″ NUMTEXT="0″ fillRule="1″ COCOOR="0 0 0 0 201 0 201 0 201 0 201 0 201 116 201 116 201 116 201 116 0 116 0 116 0 116 0 116 0 0 0 0 " BASEOF="0″ PICART="1″ TXTKERN="0″ COLUMNS="1″ TEXTCOOR="" BOOKMARK="0″ startArrowIndex="0″ TopLine="0″ LOCK="0″ EPROF="" DASHS="" IRENDER="1″ TEXTFLOW="0″ TXTFILLSH="100″ YPOS="440″ ANNOTATION="0″ LOCALX="0″ GRTYP="0″ XPOS="598.11″ NUMCO="16″ POCOOR="0 0 0 0 201 0 201 0 201 0 201 0 201 116 201 116 201 116 201 116 0 116 0 116 0 116 0 116 0 0 0 0 " EXTRA="0″ LOCALY="-16″ NEXTPAGE="-1″ NUMDASH="0″ LeftLine="0″ PRFILE="" TEXTRA="0″ SCALETYPE="1″ TXTOUT="1″ TXTFILL="Black" endArrowIndex="0″ BEXTRA="0″ PLINEJOIN="0″ TXTSTP="-0.1″ TXTULW="-0.1″ TXTSCALEV="100″ TXTSTRSH="100″ />
</SCRIBUSELEMUTF8>