The lockdown has given (some) pause for thought, although for those of us now working from home, the only extra time is that which was previously spent travelling. But the impact, especially in the first lockdown was dramatic. Partly with the good weather in March, the sound of birds not traffic noise, the clarity of the blue sky. If ever there was a reminder that we're choking our planet and each other, and motorised transport is a key player in this.
There were reports of cities where suddenly distant mountains, invisibile for decades were clear, and of the lagoon in Venice being full of fish rather than cruiseliners. Some of this i am sure is that people took the time to look without distraction. But one visualisation of the practicality I really like is the TomTom congestion index. For us its https://www.tomtom.com/en_gb/traffic-index/bournemouth-traffic/
This is heavily influenced by the difference between the speed of cars and the 'speed limit' of the roads, so the congestion on the Wimborne Bypass possibly figures rather higher than it should, but as first lockdown hit in march, week 12, the congestion stopped, and it hasn't completely come back. Fridays are interesting, and 31st July, and 4th November stick out.
The opportunity this brings for reimagining our transport requirements, reconnecting communities, and enabling travel "without my car" for short journeys should be evident, and Government recognised this with grants to quickly install infrastructure, but this has met with strong resistance from some, and sadly some of the simple temporary structures being removed. Sadly this calming measure on Leven Avenue (picture above) has been removed, despite the route being earmarked for a strategic cycleway, and the Council Portfolio holder recognising the need for something here.
The growth in traffic has arisen especially as more minor roads are being used as through links since the advent of GPS Navigation systems. The graph below shows the increase in travel on minor roads in London. In BCP, there have been no counts on most of our minor roads since 2009. How inconvenient not to be able to review the trend locally.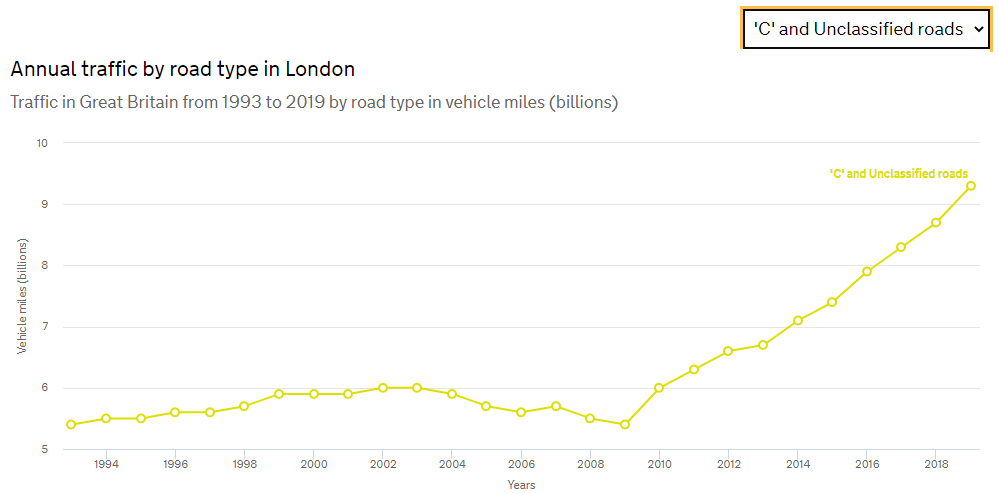 But there is hope. A 100M investment from Government, the Transforming Travel project is intended to create some key walking and cycling improvements, and bus measures over 2020-2023 to make the alternatives better for short journeys. And there is a further 1M available for localised measures. We have to think differently and draw the future to us.
There is a specific tool for feedback on the Transforming Travel network (current consultation before end of 2020) https://haveyoursaybcpcouncil.uk.engagementhq.com/transforming-travel
And for placing or upvoting general ideas and fixing blocks to walking and cycling https://www.widenmypath.com/